This week's Intuitive Eating Wednesday Question is: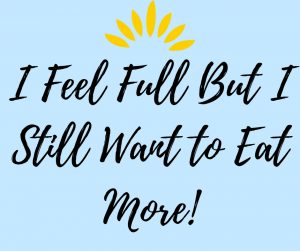 "How do I stop eating when I know I'm full? I just want to keep eating what's on my plate until it's finished. And I do, and then I feel bad, guilty and ashamed that I've done it again!"
Do you ever have this conversation in your head?
I hear this question a lot from my clients, which is why I want to address it with you.
As a dieter, you are used to eating on autopilot, and finishing what's on your plate or in the bag. Part of the journey I take my clients on is learning how to move out of autopilot eating……ahhhh, not always so easy, is it?
If you are eating a meal and you know you are full, but you are just loving the food you are eating and don't want to stop, it may very well be you testing the intuitive eating process. You just don't fully believe you could actually give yourself permission to eat what you love. If you did, then you'd know that you can put this food away and have it at another time.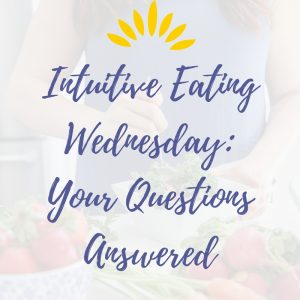 This is often tied to emotions.
Download your Emotional Eating Inventory Worksheet here.
You are feeding an emotional hunger when you continue to eat even after you have recognized you are full. It's not WHAT you are eating, it's WHY you are continuing to eat.
So the first step is learning the difference between physical hunger and emotional hunger. This is key. And understanding what emotions you are feeding is the second step that will help you take action to stop.
To break the pattern around emotional eating, you need to increase your awareness around this pattern. You then give yourself the choice to respond differently and to find another way to meet your emotional needs without food.
Grab this freebie to help you take stock of your emotional eating: Emotional Eating Inventory Worksheet.
http://dietfreeradiantme.com/wp-content/uploads/2017/03/Intuitive-Eating-I-Fee-Full-but.jpg
788
940
Bonnie R. Giller
http://dietfreeradiantme.com/wp-content/uploads/2018/08/DFRM_340x156.jpg
Bonnie R. Giller
2017-03-22 08:30:43
2017-03-22 08:28:00
I Feel Full But I Still Want to Eat More