This week's Intuitive Eating Wednesday Question is a common question that I hear all the time.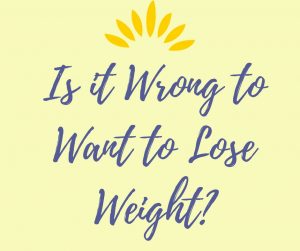 The question is:
Question:
"Bonnie, I'm told that if I'm "doing" intuitive eating, I "shouldn't" want to lose weight. Is it wrong to still want to lose weight even though I am learning intuitive eating?
Are you shaking your head now saying to yourself "yes, yes I want to know the answer to this question too."
I want you to know that it's okay to want to release excess weight. I always tell my clients that saying "I want to lose weight" is not like using curse words. Yet, they are meant to feel like they are not allowed to have this desire.
They are. And you are! But here's the difference.
We need to first focus on re-building the trust in your body and in yourself that you have lost over all the years of dieting and abusing your body. In the right time, once intuitive eating has become a practice for you, if you are carrying excess weight and it's meant to be released, it will do so without you having to worry about it, wish for it, or manipulate your eating to achieve it.
Giving up the 'control' of "I must lose weight" is scary, as you are probably concerned you will gain weight in the interim.
I won't be able to do a Facebook Live training today like I usually do on Intuitive Eating Wednesdays. So, I am linking below to two YouTube videos that I filmed on the topic of intuitive eating and weight loss/weight gain.
Just click the images below, and after watching them, post a comment and I'll respond!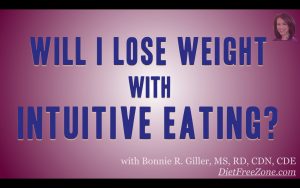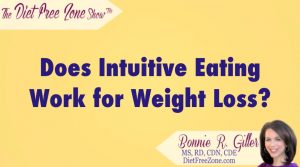 I will look for your comments, either right here on the blog, or under the videos!
http://dietfreeradiantme.com/wp-content/uploads/2017/04/Wrong-to-want-weight-loss.jpg
788
940
Bonnie R. Giller
http://dietfreeradiantme.com/wp-content/uploads/2018/08/DFRM_340x156.jpg
Bonnie R. Giller
2017-04-19 08:30:36
2017-04-07 17:46:55
Is it Wrong to Want to Lose Weight While Working on Intuitive Eating?