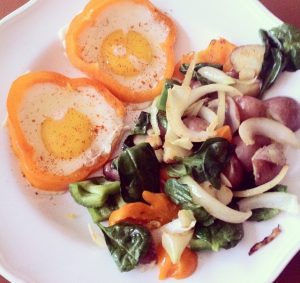 Think about this: When it's time to eat, do you put your food on your plate and sit down and eat a full meal, or do you stand at the counter and pick at different foods until you feel you're satisfied?
If you associate more with the latter question, you are not alone.
I have had a number of clients come to me feeling they are not worthy of a full meal.  Because of their weight, they do not think they deserve to really enjoy their meal and eat in a pleasant environment, free of distractions.
This is just not true.  Let's take a look back to your past and figure out where this habit started.
Is it something you saw family members engaging in?
Is it something you were lead to believe by someone you trusted?
Do you think you are undeserving of a good meal because of what you weight?
No matter where this habit was formed, there is something you should realize.  You deserve a proper meal, every meal of the day, every day. You deserve to sit down and enjoy your meal and savor each bite.
Plating Your Meals Throughout the Day
Many of my clients use the excuse of always being on-the-go or busy at work as their reason for not plating each meal, but that doesn't have to be the case.
Even if you're not at home, you can still have a good meal.
Instead of eating breakfast in the car, wake up a few minutes early and sit at the table to enjoy your breakfast.  Those few extra minutes will make a big difference in the way your body feels.
Instead of eating lunch in the car or at your desk, find a table nearby to sit and enjoy yourself.  You can do this by going to a restaurant for lunch, going to your office cafeteria, or sitting on a park bench.  Your meal times can be a good time to reflect and really tune into what your body is telling you.
Plating Your Meal at Dinner
Here are a few simple ways you can start working on plating your meals and sitting down for dinner:
Treat yourself to a well-balanced, proper dinner at your own table. Make it a point to finish cooking, plate your food and sit down at the table.
Put a nice table cloth on your dining table. This will make your environment more enjoyable.
Use a nice plate instead of a paper plate. Again, this will enhance the environment of your meal.
Savor your meal. By actively savoring each bite, you will find yourself more satisfied with your meal rather than when you pick at food mindlessly.
Plating and sitting down to most of your meals throughout the day will help you feel more satisfied and you won't find yourself reaching for a snack an hour later.  You will also become more relaxed as you can use that time to reflect on how your body feels and clear your mind.
Your Turn to Take Action:  For dinner tonight, make it a point to plate your meal.  Let me know how your experience was in the comments below.  I would love to hear from you!
If you are interested in starting on the intuitive eating journey, you can contact me here.
http://dietfreeradiantme.com/wp-content/uploads/2016/09/FullSizeRender-Copy.jpg
604
640
Bonnie R. Giller
http://dietfreeradiantme.com/wp-content/uploads/2018/08/DFRM_340x156.jpg
Bonnie R. Giller
2016-09-21 09:00:50
2016-09-19 14:11:11
Do You Plate Your Meals?