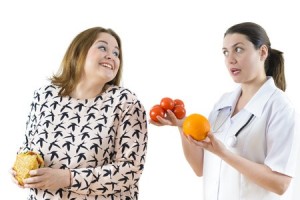 It seems that ever since I started teaching the process of intuitive eating to my clients, the terms "intuitive eating" and "mindful eating" are popping up everywhere on the internet. These are the new buzz words when it comes to people looking for a way to lose weight.
You might wonder why that bothers me. I'll tell you why.
Intuitive eating is not about losing weight. It is not a weight loss program per-se. It is a process that helps you transform the way you look at food, think about food, and have food present in your life. Becoming an intuitive eater (or shall I say reclaiming your ability to be an intuitive eater since you were born one) is about you making peace with food so you can enjoy a diet-free life of guilt-free eating which in turn will help you achieve weight loss and a body you love.
Will you accomplish this in one or two months of intuitive eating work?
Absolutely NOT!
And anyone who expects that you will just does not understand what intuitive eating is or what the process entails. This is also probably someone who has never had a weight problem before and has always told you to "just stop eating what you shouldn't eat". Really, if only it were that easy.
This is also possibly your doctor who is so good at telling you that "you have to lose weight" but doesn't give you any realistic coaching on how to do that. Or, worse yet, the doctor tells you to "avoid all bread and carbs to lose weight".
Listen, there are many quick weight loss methods out there that you can follow to successfully lose weight. If your doctor is looking for the weight to come off in any way possible, then he will recommend these quick fix methods for you. You will lose the 50 or 100 pounds he is bothering you to lose. Great. But where will it leave you when one year later those pounds are back on plus another 30?
Do I sound frustrated? If I do, well that's because I am. There are too many people out there in the world falling prey to the latest quick fix diets, and doctors who push their patients towards them for the quick weight loss are really doing a disservice to their patients. While they think they are doing a service, they are truly not!
The process of intuitive eating is not about disregarding what you are eating. I am not telling you that in intuitive eating, you should overfill your plate with pasta a la vodka, donuts or cookies.
While on the intuitive eating journey, you can still nourish your body with wholesome foods but the guilt of eating the piece of cake is gone. I actually encourage nourishing foods but you are the one who chooses it because you will find that as you learn to tune into and listen to your body, these are the foods that make you feel well, energized and healthy. You aren't eating them because you are TOLD to eat them, and that is the big difference.
So, the next time someone says to you "you need quicker results", tell them that statement is part of the diet mentality, and you are no longer dieting. Intuitive eating is a process and you will allow it to unfold naturally for you, whether that be 6 months, 9 months, or one year.
If you need help in getting started on your intuitive eating journey, request a free consultation here.
http://dietfreeradiantme.com/wp-content/uploads/2016/03/Doctor-telling-woman-what-to-eat.jpg
300
450
Bonnie R. Giller
http://dietfreeradiantme.com/wp-content/uploads/2018/08/DFRM_340x156.jpg
Bonnie R. Giller
2016-03-30 14:06:02
2016-03-30 14:06:02
Doctors Who Just Don't Understand Intuitive Eating