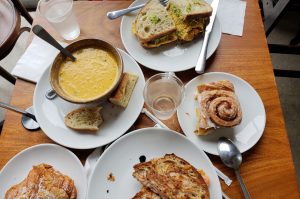 Vacations are wonderful. At least now they are since I'm no longer dieting. In my dieting days, it would be very difficult to find a restaurant to go to for dinner that had food options on the menu that I "can" eat. I was so very careful of everything I put into my mouth, and honestly, I can say now that I was a party pooper back then.
This vacation was different. I just returned from a week in Florida where my husband, daughter and I went to visit my parents. We spent a few days at Hutchinson Island in Jensen Beach. It was so nice. The first night we were there, my parents wanted to take us out to dinner. Everyone voted on Chinese food. I don't usually eat Chinese food, mainly because of the sodium content, I just find the food too salty. But I agreed to go.
Chinese Dinner
As I was looking over the menu, I took my time to see what I wanted to eat, versus what I "should" eat. I decided on a Tofu with Chinese Vegetables dish. And, because we went for the early bird (before 5:30 pm!), every dinner included a vegetable egg roll. Now, let me share 2 things with you. First, if I ever did order Chinese food in the past (which was rare), I would order it with a white sauce on the side. Second, I would NEVER eat an egg roll. I can't even remember the last time I did.
My meal came (see pic below). It was delicious! And, yes, I ate most of the egg roll too! I stopped eating when I was comfortably satisfied and took the remaining portion home. When I left the restaurant, I felt satisfied and happy that I was open to eating Chinese food.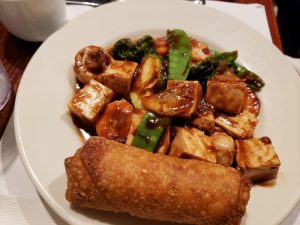 Pastry Shop
During the week, my husband and I went to Wynwood Walls in Miami. Have you ever been there? It's a cool place to visit! Anyway, there's a great food place there that we were told we just "had" to eat at. They are famous for their pastries, so as part of our meal, we ordered a cinnamon bun and almond pastry to share. Again, I stayed mindful during my meal, and enjoyed every bite. Later that night, I said to my husband "aren't I more fun now that I eat all foods?" Without hesitating, he said YES!
Releasing Food Fear
What about you? If you are still dieting or you haven't yet rebuilt the trust in your body and your ability to make food choices, do you find that this affects your relationships? Comment below!
More often than not, when you experience food fear, it prevents you from living your best life. You miss out on social opportunities and it may even be the cause of a relationship breakup.
I am so happy that I am free to eat what I desire, without guilt and without any worry of overeating. I'd love for you to experience this as well.
Getting Started
How do you start? By joining the free Break the Spell of Diets in 3 Days Experience. Just enter your name and email below to get started now.
If you'd like to view my intuitive eating course offerings, click here.
http://dietfreeradiantme.com/wp-content/uploads/2019/01/lunch-and-pastries.jpg
1060
1600
Bonnie R. Giller
http://dietfreeradiantme.com/wp-content/uploads/2018/08/DFRM_340x156.jpg
Bonnie R. Giller
2019-01-30 08:30:08
2019-01-29 17:37:24
I Ate a Cinnamon Bun (and an Egg Roll)