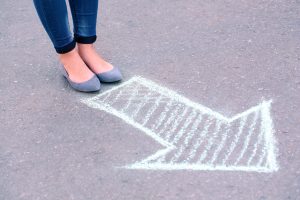 After a lifetime of dieting, you have probably learned that placing restrictions on foods does not work for your body. Despite all the diets you have been on, your weight has continued to fluctuate. If you are feeling frustrated with your lack of progress, you are not alone. Many dieters frequently feel disappointed and defeated when they don't see the results that the diets have promised.
If you are looking for an alternative to dieting (and I hope you are!), then you should consider practicing intuitive eating.
Intuitive eating is not another diet, it's a lifestyle. When practicing intuitive eating, there are no restrictions on food and there is no counting of calories. Instead you listen to your body's internal hunger and fullness cues and let that guide your eating.
Intuitive eaters do not demonize food, they do not categorize foods as "good" or "bad". When food is categorized in such a way, it causes you to feel guilt when you do consume the "bad" foods. The shame that you feel when you do eat these foods can cause you to feel dissatisfied with your decisions and ultimately your body.
One of the key components in intuitive eating is rebuilding a trusting and happy relationship with your body. Dieting makes you feel as if your body does not measure up to societal expectations. Despite your misgivings, your body is beautiful and deserves your appreciation.
When you begin to listen to your body's needs, you start to rebuild a trusting relationship. Your body instinctively know what foods you need to be satisfied.
Rebuilding a trusting relationship with food is certainly not easy. It will take some time to rediscover your body's internal hunger and fullness signals, and then to trust that they will not mislead you. However, the experience is certainly worth it. When you listen to your body's callings, you will feel more at peace with food and yourself.
The first step on your journey towards rebuilding the relationship with food, your body and yourself is to cultivate your Mind Trust™.
Mind Trust™ allows you to throw away the diet rules and food restrictions, to bust through your limiting beliefs and realize that you did not fail, the diets have failed you.
But how do you cultivate Mind Trust™ when you haven't trusted your own food decisions for so long?
The answer is to break the spell that diets have over you. I know, this is not an easy feat. But you can do it.
Sign up BELOW to start your journey towards Mind Trust™ or learn more by clicking here!
http://dietfreeradiantme.com/wp-content/uploads/2018/09/First-step-woman-feet-arrow.jpg
3840
5760
Bonnie R. Giller
http://dietfreeradiantme.com/wp-content/uploads/2018/08/DFRM_340x156.jpg
Bonnie R. Giller
2018-09-26 08:30:58
2018-10-10 16:22:02
The First Step You MUST Take on Your Intuitive Eating Journey