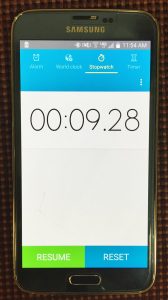 In today's fast paced society it's only natural that we rush around trying to get everything done before the day is over. You rush to work, school, and everywhere else you have to go. While moving fast may be a necessity for you, eating fast can be detrimental to your health and body.
Did you know that eating your meals quickly can actually lead to overeating and weight gain?
Think back to your last meal… did you inhale it or take the time to enjoy every bite?  How long do you think it took you to finish your meal? If it's less than 20 minutes then keep reading.
Don't worry you're not alone, most people devour their meals in about 5 minutes. They put a forkful of food in their mouths and before they even swallow, the next forkful is ready to go. Do you do this too?
When you do this you're not savoring your meal and you're not being mindful as you eat. Slowing down as you eat will allow you to really taste every bite and get the most satisfaction out of the meal as possible.
Eating quickly also prevents you from eating until you are comfortably satisfied because you don't pay attention to your inner fullness signals, instead you eat until the food is gone. It takes the brain 20 minutes to realize that your stomach is full. If you eat fast you can completely miss that fullness cue and you can overeat. It can even cause bloating, gas and heartburn.
In a Japanese study of over 3,000 people, both male and female, those who ate quickly until they were completely full were three times more likely to be overweight than those who ate slower.
Slow down your eating by:
Setting an allotted 30 minutes to sit down and have a good meal
Putting your fork and knife down between bites
Chewing slowly
Using your non-dominant hand to hold the fork
Eating with someone else
Eat without distractions (meaning no T.V. or Phone)
Challenge yourself
Set the timer on your phone and see how long it normally takes you to finish a meal. It might be 5 minutes and you might think that stretching it out to 20 is impossible. It's not! Continue to use the tips above every time you sit to eat to help lengthen your meal minute by minute. Before long, you will be eating slower and using your inner fullness signals to guide you when to stop. And, you'll enjoy your meal a whole lot better.
Comment below and let me know how this goes for you!
http://dietfreeradiantme.com/wp-content/uploads/2016/08/timer.jpg
2986
1675
Bonnie R. Giller
http://dietfreeradiantme.com/wp-content/uploads/2018/08/DFRM_340x156.jpg
Bonnie R. Giller
2016-08-17 12:33:37
2016-08-17 12:33:37
How to Slow Down the Pace of Eating