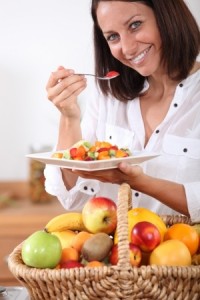 If I told you, a chronic dieter, that you can recapture the pleasure in your eating and look forward to your meals with excitement and not fear, dread or worry, what would you say?
"No way, impossible."
"I wish!"
"I doubt it!"
I know that this might seem unachievable to you, having battled with your weight for years, being on and off diets without long-term success. All these diets have caused food to be your enemy, which is quite unfortunate because food is meant to nourish your body.
How many times have you accepted a lunch date with your girlfriends, or dinner date with your partner only to worry for hours beforehand what you will order and if you are going to overeat? The worry about how many points the salad dressing is, how many calories are in the creamed spinach and concerned that you will leave the restaurant feeling bloated, heavy and miserable.
All this fear and worry leads to a self-fulfilling prophecy. You DO overeat, you DO feel guilty and ashamed and you DO leave the date feeling bloated, heavy and miserable.
In my work with my clients, I help them to understand that through the process of learning to be an intuitive eater, you actually lose this food fear and food worry and instead leave the restaurant or dinner table feeling utmost pleasure in what you have just eaten (and you were able to focus on your wonderful dinnertime companion instead of thinking about eating too much food).
The secret is in SAVORING YOUR FOOD! This means slowing down and taking the time to enjoy all the qualities of the food you are eating including taste, texture, temperature, aroma and appearance. This sounds a lot like mindful eating, doesn't it? Yes, it is and it is exactly what I teach my clients as they move along their intuitive eating journey.
This month is National Nutrition Month. The theme is "Savor the Flavor of Eating Right". This theme meshes wonderfully with the message of mindful eating. Take the time to enjoy food traditions and appreciate the pleasure, great flavors and social experience that food can bring to your life.
Would you like to participate in a free 7 day challenge where you can learn how to "Savor the Flavor of Eating Right"?
This challenge is happening in my private Facebook group. It's called: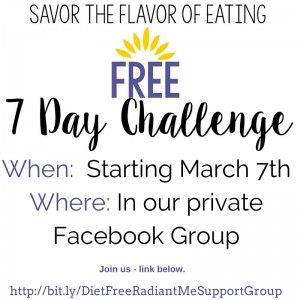 Savor the Flavor of Eating
7 Day Free Challenge
Discover:
– What's behind the "HOW", "WHEN", "WHY" and "WHERE" you eat.
– Begin your journey towards a more mindful and pleasurable eating style.
Join us for Free by clicking here. There is no opt-in required to join our group. This takes you to my private Facebook group. All you have to do is request access to join and Walla! I'll accept you and welcome you in.
The challenge starts on March 7. You can only participate if you are part of the private Facebook group, so click here now and request access to join.
http://dietfreeradiantme.com/wp-content/uploads/2016/03/Woman-eating-fruit-salad.jpg
450
300
Bonnie R. Giller
http://dietfreeradiantme.com/wp-content/uploads/2018/08/DFRM_340x156.jpg
Bonnie R. Giller
2016-03-02 09:00:06
2016-03-01 19:11:42
Is it Possible to Eat without Food Worry?