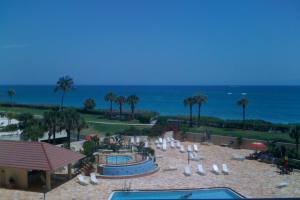 It seems like we don't have any "in-between" weather anymore. You know the kind of weather I mean. The days of cool breeze where you wear a light "spring jacket" or sweatshirt as you run your errands. Nope, we've gone from the cold of winter to the hot humidity of summer, even though it's not officially summer yet on the calendar.
Although it is not summer yet, the beach craze seems to be spreading already. I'm sure you have heard and seen advertisements promoting diets, pills, and supplements to give you that "perfect beach body in just 3 weeks."
Let's be honest. They are all a hoax! I know that as a mindful eater, you must know this already. There is no quick fix to losing weight and getting healthy. The only way to see true, long term success in weight loss is to commit to bettering yourself through eating and lifestyle changes.
There is another problem I have with these promotions for getting a "bikini body" before summer. Who decided that you have to have a certain body to feel comfortable in a bikini? The media is constantly sending out the message that you must be thin, toned, and bronzed in order to be considered beautiful. It is time to throw this idea away.
This beach season I have a new idea for you. LOVE your body and NOURISH your body rather than damage it with extreme diets and pills that are harmful to your body. The only way to achieve a body you love and are proud of is to eat mindfully, make mindful lifestyle changes and respect you're here and now body.
Sayonara, diets. We had no need for you this winter and we certainly don't need you this summer or ever again!
http://dietfreeradiantme.com/wp-content/uploads/2012/05/Summer-pool-ocean1.png
640
960
Bonnie R. Giller
http://dietfreeradiantme.com/wp-content/uploads/2018/08/DFRM_340x156.jpg
Bonnie R. Giller
2015-05-14 13:23:11
2015-08-26 14:26:36
Say Sayonara to the Idea of a "Perfect Bikini Body"