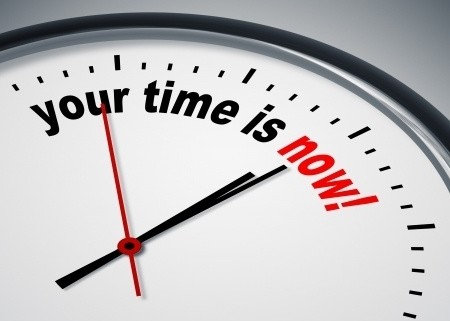 I've just completed launching my program Freedom to Eat Forever and I've spoken and emailed with a lot of you. Many of you were ready to jump in and leave dieting behind for good. And some of you were hesitant. That's fine, I respect that. You just weren't ready.  Yet, it's important to explore the reasons why you were hesitant. They likely include time, money, or fear.
Let's start with time. You know the age old saying "there's never enough time in the day". Sometimes when there's an unknown, it's hard to figure out if you'll have enough time to commit to it.  But here is another saying I'm sure you've heard…you make time for the things you really want to do. So while  you may not be sure what type of time commitment you are able to give to learning a new way of approaching your relationship with food, it's likely that if there wasn't another underlying reason, you probably can allocate some time to take care of you in this very important way.
So, let's look at the next possibility – money. Many times you ask for an opportunity to come your way, you wish for it, you dream of it. And, it is presented to you. Yet, you turn it down. I understand it's scary to invest in yourself because what if you're not successful? What if the results are the same as they have been in the past? At some point you need to move beyond this fear if you believe a new and different approach can work for you. You need to move out of your comfort zone, think outside the box and recognize that what you've tried for years and years just hasn't served you. Thus, maybe it is time to invest in yourself in a very real new way and give yourself the chance to finally be free of food and body worries for good. A new approach gives hope.
The third possibility is fear. Fear of what? Fear of actually not dieting anymore. If you are committing to giving up dieting, then you might worry that you will lose control of your eating and constantly overeat. I fully understand your dilemma. Diets are safe for you. They tell you what to eat, when to eat and how much to eat. You don't need to make any decisions. But let me ask you. Is this really how you want to live your life? Or, do you want to be in charge of your own body and your own food choices?
I've given you some things to think about. If you want to further explore these areas, feel free to contact me.
Wishing you success and forward movement on your intuitive eating journey.
http://dietfreeradiantme.com/wp-content/uploads/2015/03/Your-time-is-now-clock.jpg
338
450
Bonnie R. Giller
http://dietfreeradiantme.com/wp-content/uploads/2018/08/DFRM_340x156.jpg
Bonnie R. Giller
2015-03-11 09:00:12
2015-09-27 11:32:20
What's Holding You Back from Saying YES to a Path of Intuitive Eating?