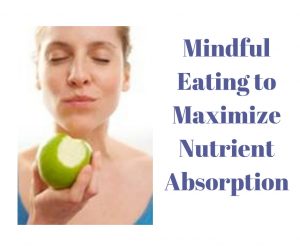 It wasn't too long ago that the concept of intuitive eating was regarded as a "new science." Time and time again, a new client would sit across from me in person or on Skype and say "why haven't I ever heard of intuitive eating before?" Truth is, I still hear this today. This is probably because the diet industry has a louder bark than those of us practitioners practicing and teaching intuitive eating.
While intuitive eating might be a newer concept for you, more than likely mindful eating is less "new". Being mindful and tuning into your body's natural signals is a science that is rooted in our oldest ancestry. Tapping into those innate practices that your ancestors once held, or being mindful when you eat, is one way of conquering your battle with food.
So what is mindful eating?
Let's start with understanding what mindfulness is. Mindfulness is a state of being conscious or being aware of something. It's paying attention to your thoughts and feelings without judging them, without believing that there is a "right" or a "wrong" way to think or feel in that particular moment.
When you are being mindful, your thoughts tune into what you are sensing in the present moment, rather than thinking about the past or the future.
Mindful eating involves developing a special kind of awareness that you bring to the table when you eat. It is less about what you eat and more about the way you eat. It's the act of slowing down, savoring the flavors, and enjoying every bite.
As you mindfully eat, you become aware of your eating habits, especially the ones that sabotage your eating experience.
Becoming a mindful eater takes practice.
Being mindful in other aspects of your day are also important and can include deep breathing exercises, meditation and writing in your journal. No matter how you focus on being mindful, small steps are key. There are psychological as well as physical reasons why slowing down can influence the way your body works.
For one, mindful eating can actually readjust your metabolism for efficient and effective functioning. The reason for this is because your body is basically functioning in one of two modes. One mode is the fight-or-flight response. This response is stimulated when you are in action. This response releases cortisol, and designates blood to your extremities in your muscles and bones.
The other mode is rest and digest. When you sit down and peacefully enjoy your meal, your body draws your blood flow to these organs of digestion. This effectively breaks down the carbohydrates, protein and fats that you consume.
Based on these two physiological responses, it's clear to see where you may be going wrong in your quest to nourish your body and be healthy and strong. When you eat on the go, in your car, on the bus or on your walk to work, your body is designating its blood flow and energy to muscles that are moving instead of your stomach. Eating on-the-go causes the absorption of nutrients to be impaired.
And, on top of that, you aren't focused on what you are eating, and likely are not satisfied psychologically. Therefore you find yourself looking for food soon after to fill some sort of "need".
If you want to maximize your body's absorption and efficiency and have utmost pleasure in your food and meals, start by avoiding all distraction while you eat. Eat and just eat. Take the time to sit down, take your mind off your tasks and simply eat. Step away from your desk at work or find a spot to eat outside to increase the joy you have when eating. Do the same for each meal.
While this might seem difficult at first to do, you will reap the benefits soon enough.
Your Turn to Take Action: Name one mindful eating technique you will try tonight?
http://dietfreeradiantme.com/wp-content/uploads/2018/09/mindful-eating-.jpg
788
940
Bonnie R. Giller
http://dietfreeradiantme.com/wp-content/uploads/2018/08/DFRM_340x156.jpg
Bonnie R. Giller
2018-09-05 08:30:21
2018-09-04 20:48:42
Mindful Eating for Maximum Nutrient Absorption