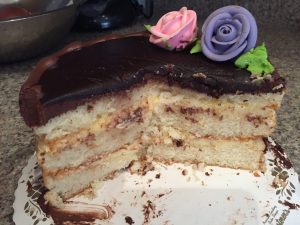 Funny thing about what I do for a living. Most people think I don't eat cake, sweets, or what they call "junk food". If you've been following me for a while, you know that I don't call food "junk". I call less nutrient-rich food "play foods". And, yes I do eat play foods when I feel like it.
Two weeks ago, I went into the local bakery to buy a graduation cake for my daughter, Jennifer, who graduated college in May! She graduated college the same day she started grad school and unfortunately, she had to miss graduation to attend her first day of classes (she is going for a degree in occupational therapy – I'm so proud of her!). Jennifer felt bad about missing graduation, and I wanted to make a big celebration for her on the evening of her big day. So, I planned a family dinner, bought her a card, some graduation balloons, and went into the bakery to buy a cake that we can present to her while singing "Happy graduation…".
I was standing on line and turned around to see a man from my community. He looked at me in shock that I was in the bakery, ordering cupcakes (I decided not to buy a cake, the cupcakes looked more fun!). He knows that I am a registered dietitian nutritionist and I guess upon seeing me, he immediately thought I don't belong in a bakery. I felt the need to start explaining to him that my daughter graduated and we are having a celebration, to which he put his hand up and said "okay, not a problem". I left the bakery really angry…at the man for assuming I wouldn't eat the cupcakes and at myself for feeling the need to start explaining why I was buying them.
The following week was my younger daughter, Lauren's, birthday. I went to the same local bakery to order her a cake for our birthday celebration dinner that evening. Again, after I ordered the cake and was waiting for them to write 'Happy Birthday' on it, I saw a different man from my community and he said "oh, it's a birthday cake. I didn't think you were buying something for yourself in here".
Really??
Well this time, I did not explain myself at all. I smiled and said, "nice to see you too". I was so tempted to start explaining to him about intuitive eating, but I realized that it would fall on deaf ears. He wasn't interested in understanding about intuitive eating, and that there are no good or bad foods. I know him for a while, and while he is a fit man, I know that his wife struggles with her weight and it just wasn't the right time and place.
The beautiful thing about intuitive eating is there is no right way or wrong way to eat. Once you learn to listen to your body's cues and trust that your body will guide you, you will find you will "crave" nutrient-rich foods most of the time, and play foods some of the time.
Contrary to what some people think about intuitive eating, intuitive eating is not eat what you want when you want without considering your hunger level or how that food feels in your body. It is not giving you permission to eat doughnuts all day long just because you can. If you want a doughnut, eat it and move on. If you don't want a doughnut, don't eat it. I know this is a hard concept for chronic dieters who label food good/bad, and who have guilt after eating certain foods.
I base my teachings around 3 essential ingredients. They are: a healthy mindset, caring support and nutrition education. Think of it like 3 pieces to a puzzle. All 3 pieces need to be in place to have peace with food, your body and a freedom to eat without guilt. But the nutrition piece comes once the healthy mindset and support pieces are in place. Then we integrate nutrition and you will find that you will be choosing nutrient-rich foods most of the time not because you think you "should" but because you feel awesome eating them. And, you will incorporate play foods as you see fit. Have the doughnut, cupcake, ice cream or whatever your play food is, or don't. You are in the driver's seat. Releasing the fear around these foods is key to making peace with them.
I enjoyed a nice piece of birthday cake on Friday evening to celebrate my daughters 15th birthday (it had custard inside…yum!) No guilt, no regret, just pure pleasure.
http://dietfreeradiantme.com/wp-content/uploads/2017/06/Birthday-cake-e1496775817139.jpg
2448
3264
Bonnie R. Giller
http://dietfreeradiantme.com/wp-content/uploads/2018/08/DFRM_340x156.jpg
Bonnie R. Giller
2017-06-07 08:30:20
2017-06-06 15:06:49
YES, I Eat Cake!