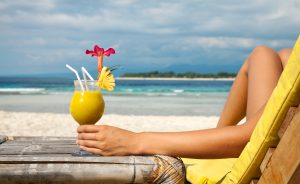 Summer is in full swing, it's my favorite season! There's less stress, no school carpools or tutors to schedule and it's a time when my husband and I take some much needed time off.
In the days when I was dieting, I would often be apprehensive about an upcoming vacation. It would start with the thought of trying on all the summer clothes in my closet to see what "looked good" and have them piled high on my bed until I narrowed it down to what would make it into my suitcase.
Then of course it was the thought of what I would eat on vacation. Would the restaurants have food that was "on my diet"? What would happen to my weight if I ate out at a restaurant each evening? And what about the drinks? I don't mean water, that I have no problem drinking. I mean the cocktails that I may want to enjoy at the pool or at dinner. How many calories and how much sugar will it have and how will it affect the number on the scale?
Oh my, this is just so exhausting, so forget it! I'll just enjoy my vacation and start my diet again when I get home.
Does this sound familiar to you? Have you done this, or thought these same things? (Please comment below the blog in the comment section….)
The above scenario depicts what I call the "Vacation Diet Mindset". Yep, there's a name for this. You are so good on your diet all week/month/year long, but vacation comes and all that "goodness" gets tossed out the window. Why?
Well, since you've been depriving yourself of the food you love while dieting, you figure that when you are away on vacation and enjoying yourself, you might as well enjoy yourself with food too. But the problem is it leads you to overeating and overindulging and quite honestly, not respecting your body.
Here's the thing. If you were not restricting all week/month/year before your vacation, you'd be enjoying all the food you love all the time and you wouldn't have to go into "Vacation Diet Mindset" when you went away.
So how do you shift out of this mindset? Here's 3 steps to get started:
Commit to no longer dieting. And by dieting, I also mean your own self-designed diets and food rules you put into affect for yourself. I know that's a tall order, but until you are able to give yourself unconditional permission to eat what you desire, you will restrict and deprive and fall into the Vacation Diet Mindset on your next vacation.
Take the Mindful Eating Pledge. Basically, this means promising yourself that you will be mindful of the food choices you make and you will maintain an awareness so you can fully savor and enjoy the food you are eating. When you do this, you will find that it will be easier to recognize fullness and stop before you get overfull.
Ask for Support. The journey towards returning to being an intuitive eater and achieving WholeBody Trust™ of your mind, your hunger and your food takes time and requires support. There is no reason you need to do this alone. Seek support from your loved ones, a registered dietitian nutritionist-certified intuitive eating counselor and a community of like-minded women on the same journey as you. It's powerful!
Are you struggling with your intuitive eating journey and want to take it to the next level? Join us in the Intuitive Eating Mastery Circle. Learn more here.
http://dietfreeradiantme.com/wp-content/uploads/2018/08/vacation-beach-cocktail.jpg
3306
5395
Bonnie R. Giller
http://dietfreeradiantme.com/wp-content/uploads/2018/08/DFRM_340x156.jpg
Bonnie R. Giller
2018-08-08 08:30:38
2018-08-07 19:45:23
3 Steps to Stop Overeating on Vacation