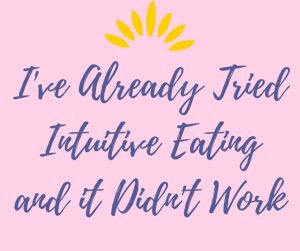 I've heard it many times! Women who are skeptical about intuitive eating. They tell me they've tried it and it didn't work. But did they really try it?
Or, were they just treating it like another diet?
You likely know by now that there are no rules in intuitive eating. As a matter of fact, one of the first things I do with my clients is help them kick all those diet food rules to the curb. However, it's possible that, unbeknownst to you, you have created rules around intuitive eating.
I must eat ONLY when I am hungry.
I must ALWAYS stop eating when I am satisfied, and not full.
I must ALWAYS feel my feelings.
I must ALWAYS eat at the table without distraction.
And, you think:
If I don't do these things all the time and do them perfectly, then I have failed at intuitive eating.
This sounds like a diet to me, with a long set of rules (oh, there are a lot more, I just kept it to these 4 for now!).
This is the Intuitive Eating Diet!
I don't blame you. Many times, women (and of course some men) tell me they are ready to give up dieting and work towards intuitive eating. And to them, that means eating when hungry and stopping when full. They ask me to teach them how to do this again, because they haven't heard their signals in a long time.
That is all well and good, and I am happy to help these women reacquaint themselves with their inner signals. The issue is that we cannot start at this point of hunger and fullness, because then it becomes the "Hunger-Fullness Diet", aka The Intuitive Eating Diet.
So, where do you need to start?
At Step One – Shift Your Mindset
Shifting your mindset means moving away from the dieter's mentality. And, this takes time, especially if you've been dieting for MANY years. And, that's okay! There is no rush! Gift yourself with the time and patience to understand how your mindset got to where it is today and to learn the strategies you need to make this shift.
This is more than just knowing what diet food rules never worked for you. This is delving into your belief system. Really challenging yourself to understand what beliefs you're holding onto that might be causing you to self-sabotage….over and over again.
These beliefs were born from messages you were given years ago. You've assumed them to be true, and they have been driving your actions all these years from your subconscious mind. Once you can change those beliefs, you will see and feel the mindset shift that is so key for your intuitive eating journey.
Is this difficult to do?
You may think so. And, you may say it's just easier to go on a diet (even though diets have never worked for you, and you're pretty sure they never will). But it's safer. If this is the case, can you now understand why saying "I've Already Tried Intuitive Eating, and It Didn't Work" doesn't hold any water?
If you are ready to do the deeper inner work necessary to change your relationship with food and your body, just head on over to http://TalkWithBonnie.com and let's set up a time to speak.
Have you been on the 'Intuitive Eating Diet'? Comment below!
http://dietfreeradiantme.com/wp-content/uploads/2017/10/Ive-already-tried-IE.jpg
788
940
Bonnie R. Giller
http://dietfreeradiantme.com/wp-content/uploads/2018/08/DFRM_340x156.jpg
Bonnie R. Giller
2017-10-25 08:30:32
2017-10-24 17:11:28
I've Already Tried Intuitive Eating, and It Didn't Work