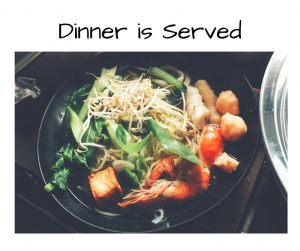 I have a question for you…  When it's time to eat, do you put your food on your plate and sit down to eat, or do you stand at the counter and pick at the food until you've had enough?
I've had a number of clients tell me they are not worthy of a sit down meal.  They do not think they deserve to enjoy their meal in a pleasant environment, free of distractions.
Let's take a look back to your past and figure out where this belief might have originated.
Is it something you saw mom or grandmother doing?
Is it something you were lead to believe by someone you trusted?
Were you ever told that you "shouldn't" be eating because you are "fat"?
While it's important to understand the origin of this belief, please know this…
You deserve to eat, every meal of the day, every day. And, you deserve to sit down and enjoy your meal and savor each bite.
Plating Your Meals Throughout the Day
You may say that you have no time to plate your meals, that you are busy, constantly on-the-go and it's just easier to grab when you can, or just graze throughout the day. I get being busy, but it's all about priorities. You CAN restructure your day to include meal time. This means you sit at the table with a plate of food and enjoy it in good company.
Let's start with Breakfast:
Instead of eating breakfast in the car, wake up a few minutes earlier and plan to sit at the kitchen table to enjoy your breakfast. To make this even easier, prepare what you can the night before so you have less steps to do in the morning.
Then there's Lunch:
Instead of eating lunch at your desk, schedule 30 minutes into your schedule to leave your office to eat lunch. Maybe there's a break room at work, a local park with picnic tables, or on the occasion, a nearby restaurant you can eat at. Your meal times can be a good time to reflect and really tune into what your body is telling you.
No More Dinner Grazing:
Believe that you are worthy of eating a well-balanced dinner, sitting at your table. Make it a point to finish cooking, plate your food and sit down.
Put a nice tablecloth on your dining table and use a nice china plate instead of a paper plate.
Savor every bite. Really tune into the taste, texture and flavor of the food you are eating. Be fully present.By actively savoring each bite, you will find yourself more satisfied with your meal rather than when you pick at food mindlessly.
Plating and sitting down to your meals throughout the day will help you feel more satisfied and you won't find yourself searching for food during the day and night.
If you truly have trouble with this, dive deeper to uncover your limiting beliefs around your worthiness to eat. If you need help, just reach out to me at Bonnie@DietFreeRadiantMe.com
http://dietfreeradiantme.com/wp-content/uploads/2018/07/Dinner-is-served.jpg
788
940
Bonnie R. Giller
http://dietfreeradiantme.com/wp-content/uploads/2018/08/DFRM_340x156.jpg
Bonnie R. Giller
2018-07-11 08:30:14
2018-07-10 21:24:48
You Are Worthy of a Sit-Down Meal