Anyone who works with me knows that self-care is a major part of my work. Between taking an extra few minutes for yourself each day, fueling your body with nourishing foods, and knowing when to ask others for support, there are many ways you can put your self-care in the forefront of your life.
The process of improving your self-care may be slow starting and its okay to take baby steps to help yourself.
You may have started by giving yourself a few minutes to de-stress each day and eventually moved to learning how to prioritize your activities so you are doing what you enjoy most.
I have seen a lot of great turnarounds over the last year; people like yourself who have taken their self-care from the back burner to the front and center of their life. Making this shift is a major step on your intuitive eating journey.
Yet, what I am finding is that many of you are stopping there.
You are not taking the process to the next level.
You are seeking out free resources to help you become an intuitive eater, yet you are still spinning your wheels.
You are taking 3 steps forward, 2 steps backward.
Sure, if you continue at this pace, you may eventually get to where you want to be (an intuitive eater) but why wait that long?
You can accelerate the process by partnering with the right person who will guide you using an organized proven system.
I am that person for you.  And I have the system for you.
It's the Freedom to Eat Forever™ Program, a 5 step intuitive eating process that will enable you to enjoy guilt-free eating and a life free of dieting.
But you know what? You have to step up to the plate and invest in yourself and your future. It's when you invest in yourself that you see the results. I did it, and so can you.
Check out this cool video. Then email me or Facebook message me if you want to see if it's your time for Freedom to Eat Forever™.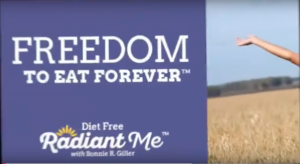 Hurry. Class starts February 22, 2017. I don't want you to be left out. Take your intuitive eating to the next level.
http://dietfreeradiantme.com/wp-content/uploads/2015/12/DFRM_FTEF_Header_900x300.jpg
300
900
Bonnie R. Giller
http://dietfreeradiantme.com/wp-content/uploads/2018/08/DFRM_340x156.jpg
Bonnie R. Giller
2017-02-08 09:00:00
2017-02-06 12:39:57
Here's What to Do to Lose Weight Forever