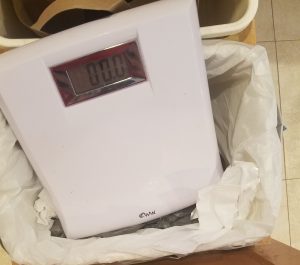 This week's Intuitive Eating Wednesday Question comes from Kay, a woman who has been working on overcoming emotional eating. I received an email from her that said the following:
"Sometimes eating healthy is easy. But sometimes eating healthy and losing weight feels like a struggle. I had to stop weighing myself recently. The scale was showing that I am going up and down around a pound per day.  I was getting worried, and it seemed like all of a sudden, I was struggling more (emotionally.)
This early morning, I went out to the backyard to water my lawn on my watering day, and my pajama bottoms almost fell off me. I wanted to go back inside and weigh. But if I did, and the scale didn't show less, I knew that I would be upset.  How can I give up worries about how much I weigh?
This is such a great question and I know it's something you are thinking as well. As a chronic dieter, you've used the scale to measure your success. Each day you'd get on the scale to see how you did the day before and to determine your plan of action for the day ahead. And, if we are being real, you probably go on the scale more than one time per day.
Let's look at a few scenarios.
Scenario #1: You get on the scale in the morning and the number is a "good" number. Your mood for the day is happy.
Scenario #2: You get on the scale in the morning and the number is a "bad" number. Your mood for the day is depressed, even angry.
Both scenarios can trigger overeating, whether it be celebration eating ("I lost weight, I can have a treat") or consolation eating ("I was so good and didn't lose any weight. Why bother trying".)
Other self-talk around the result of your morning weigh-in might sound like:
"I ate horribly yesterday, and I still lost weight. Thank goodness, I don't have to starve today".
"I only lost ¼ pound, it wasn't worth it".
This self-talk is the talk of a dieter. Without a doubt, weighing yourself keeps you in diet mentality. It fuels the body worry>food worry vicious cycle of emotional eating and dieting. If you truly want to be break free of this cycle, you must start with throwing away the scale.
Do you let the scale dictate your mood? Are you ready to throw it away?
Watch this video (click image) as I discuss this topic further and comment below with your commitment to stop weighing yourself.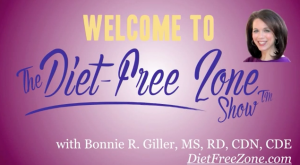 http://dietfreeradiantme.com/wp-content/uploads/2017/07/Scale-in-garbage-cropped-1-e1501033186219.jpg
2651
3003
Bonnie R. Giller
http://dietfreeradiantme.com/wp-content/uploads/2018/08/DFRM_340x156.jpg
Bonnie R. Giller
2017-07-26 08:30:18
2017-07-25 22:08:27
Trash the Scale