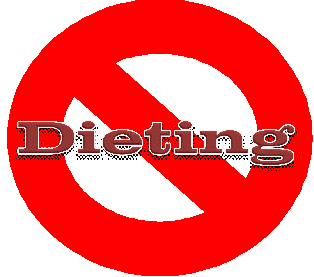 Today is a very important day: International NO Diet Day!
The purpose of this nationally recognized day is to raise awareness of the harmful effects unhealthy dieting can have as well as the importance of respecting and accepting body types.  The goal is to teach people how to have a healthy relationship with food and ditch restrictive eating habits.
May 6th has been the designated day for NO Diet Day ever since it was created in 1992 by Mary Evans Young, director of the British Group "Diet Breakers".  After overcoming anorexia, Young worked to help people appreciate themselves for who they are and the body that they have and established the following set of goals for this very important and meaningful day:
GOAL: Celebrate the beauty and diversity of all our natural sizes and shapes.
GOAL: Declare a personal one-day moratorium on diet/weight obsession.
GOAL: Learn the facts about weight-loss dieting, health and body size.
GOAL: Honor the victims of eating disorders and weight-loss surgery.
GOAL: Help end weight discrimination, size-ism and fat phobia.
These are a great set of goals to set not only on International NO Diet Day, but for every day of the year.  Learning ways to eat intuitively by honoring your hunger and satiety cues is the best way to ditch the diet mentality and develop a healthy relationship with food.
Chronic dieting and the perpetual obsession with food and body weight is something that we are faced with constantly, especially in a culture that glorifies the notion that thin is beautiful.  This misconception has caused food to become the enemy for most people.  This is sad because food is something we should all cherish and enjoy and view as a means to nourish our bodies.
If you have been struggling on and off diets, let today be the day that you say NO MORE! Contact me for your FREE Break Free of Dieting Strategy Session and let's turn this around for you. I will help you transform your relationship with food, your mind and your body so you can achieve the body that you love!
Your turn to take action: Click here for your Break Free of Dieting Strategy Session.
http://dietfreeradiantme.com/wp-content/uploads/2013/05/No-Dieting.bmp
277
314
Bonnie R. Giller
http://dietfreeradiantme.com/wp-content/uploads/2018/08/DFRM_340x156.jpg
Bonnie R. Giller
2014-05-05 12:06:21
2015-08-26 14:26:40
International NO Diet Day