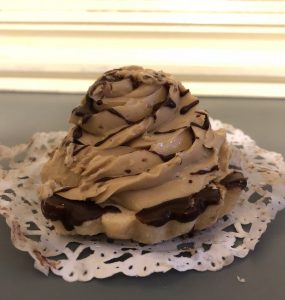 As a Certified Intuitive Eating Counselor, I am often asked about the role that dessert plays in our eating plan. Many people who are stuck in the diet mentality see certain foods as off-limits. This is largely due to the many diets they've been on that place foods into two categories, healthy foods and "junk foods" (or "good" and "bad", "legal" and "illegal" etc…you get the idea).
When food is labeled as forbidden, it just becomes that much more appealing. When you place limits on how many sweets you can have or when you can have them, you are giving that food power over you. You are treating certain foods like a vice instead of a delightful treat to be savored.
Food is not meant to be categorized in such a way. As a matter of fact, I have a pet peeve when people call food "junk food". Food is not junk and food is not garbage. Food nourishing to our body and soul. Food is neutral and there are ways you can incorporate what you would call "junk foods" into your eating style without demonizing it.
In order to build a healthy relationship with food, it is imperative to stop demonizing it, and look at it as a source of nourishment.
When working with my intuitive eating clients, I take them on a journey in which, together, we work to rebuild a happy and healthier relationship with food. During this journey, we reframe the way they way they look at desserts and sweets, and refer to these foods as either "fun foods" or "play foods." They find it enjoyable to incorporate play foods into their eating style once they rebuild that trust within their body. They no longer fear these foods.
Chocolate chip cookies, lemon meringue pie, and salty caramel ice cream are not "off limits". As you learn to enjoy all foods on your intuitive eating journey, you will find that every food has a place in your life, if you so choose.
Some sweet treats that can't be beat:
In practicing an intuitive eating lifestyle, you will learn how to pay attention to your body's internal hunger and fullness cues.
Quick Tip
When you are eating a food, try and remember how that food is affecting you both mentally and physically.
Remember how you felt after eating a quinoa salad and compare that to after you had a giant cheeseburger. When you pay attention to how foods affect you, you will feel more in charge of your eating. You may not crave that BLT as much when you realize how much better you feel when you eat a yogurt for breakfast instead. Don't get me wrong, there are mornings when a giant stack of pancakes is in order, however as you become more intuitive and skilled at listening to your body, this may not be as common of an occurrence as before.
Interested in learning more about intuitive eating? Contact me to learn more about my various intuitive eating programs.
Your Turn to Take Action: What is your favorite sweet treat? Let me know in the comments below!
http://dietfreeradiantme.com/wp-content/uploads/2018/09/Choc-mouse.jpg
3073
2923
Bonnie R. Giller
http://dietfreeradiantme.com/wp-content/uploads/2018/08/DFRM_340x156.jpg
Bonnie R. Giller
2018-09-12 08:30:20
2018-09-07 17:42:34
Digging Into Desserts as an Intuitive Eater