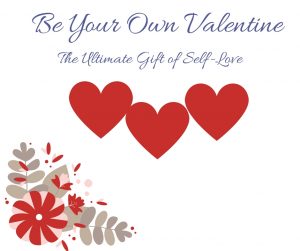 It's Valentine's Day and I bet you've been thinking what you can do for you sweetheart, or what you can buy for him. You have spent countless hours thinking about this, what would make him feel special?
Yes, you find it! You are excited! Whether it's that perfect gift or a special night on the town, you bare no expense when it comes to your honey!
That's awesome! You are a wonderful partner!
But what about you? What do you do for yourself? When is the last time you said YES to yourself? When have you splurged on YOU!
Most probably it's been a while. Especially if you have other people who rely on you (kids, spouse, elderly parents etc…). Well, their needs come first, you think.
Of, perhaps you don't feel worthy enough of doing something for yourself. "How can I" plays in your head over and over again.
Today, on this day of LOVE, show some LOVE and KINDNESS to yourself. You've been struggling with your body, your weight and your food for years, maybe even decades. You think you've tried to help yourself by going on a diet, trying the cleanse that Jennifer Aniston was on (wow, look at her amazing body!), or signing up for Weight Watchers again (because if Oprah could lose 42.5 pounds, so could I!).
But I just want to talk to you straight from my heart right now. Those diets, cleanses, detoxes, even Weight Watchers won't work. They never did work and they won't work now. And you know what? I know you know this. It's just that you are scared to try something different. Scared to go out of your comfort zone, even though staying in your comfort zone keeps you stuck.
Today, on Valentine's Day, do this for you.
Schedule a call with me to see if Freedom to Eat Forever™ is right for you. If it's not a good fit for either one of us, I will tell you!
The program starts on February 22, but you can start TODAY as soon as you give yourself this gift. Once you enroll, you will have immediate access to the Orientation and Pre-training Modules to get you started. Plus, the private Facebook group is already open and you'll get to know the other amazing women in the group.
So, choose your Valentine's Gift to yourself: Either –
Register here for Freedom to Eat Forever™  
There is a money back guarantee, so you have nothing to lose!
Schedule a free call with me to see if Freedom to Eat Forever™ is a right fit for you. Click here to pick a time on my calendar.
Once you make this decision, you will feel relieved, happy and tickled all over!
Happy Valentine's Day!
http://dietfreeradiantme.com/wp-content/uploads/2017/02/Be-Your-Own-Valentine.jpg
788
940
Bonnie R. Giller
http://dietfreeradiantme.com/wp-content/uploads/2018/08/DFRM_340x156.jpg
Bonnie R. Giller
2017-02-14 09:00:23
2017-02-13 14:43:00
Be Your Own Valentine – The Ultimate Gift of Self-Love