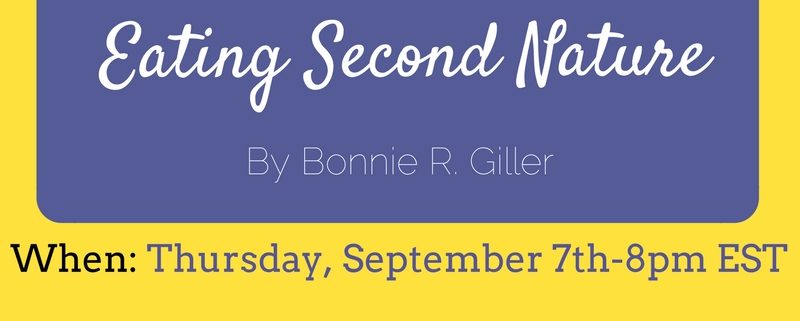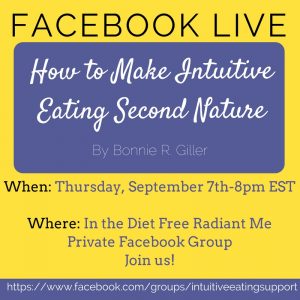 When you want to get into a routine and build something new into your life, one way to do so is to schedule and plan.  As a chronic dieter, this was (or maybe still is) also true for you when it comes to eating for weight loss (a.k.a. dieting).
You schedule the number of meals you'll eat that day based on when the plan tells you to, and you restructure your life around that plan.  You find that you're constantly thinking about what you're supposed to be eating next, will you be eating it "on time" and if you didn't pack it with you, will you be able to find something comparable.  You find the only thing you are thinking about is food.
I want you to remember a time where you weren't worrying about your weight or your food.  You lived your life and when you were hungry you ate, you stopped when you were full and you weren't frantically wondering if a food fell into your plan if you wanted to have it.  For many of you trying to get back to this memory, it might take you all the way back to your childhood days—and that's OK.
When you were younger and there's less to worry about, that carefree attitude translated easier to food.  Eating was just something you did in between all the other fun things you did each day. And you enjoyed every bite you took.
This is intuitive eating at its finest….when
…..Eating is a Non-Issue and Food Decisions Just Happen
Now that you are older and have been influenced by the diet culture that surrounds you, well, it hasn't been so easy for you to return to the way you were born.
I know you have this deep desire to become an intuitive eater again. I know this because I have spoken to hundreds of you wishing it were easier.  I know how easy it is to fall back into diet mentality, and I also know how important support is for you on this journey.
Free Training
Join me tomorrow, Thursday September 7 at 8 pm EST for a Facebook Live training where I will discuss how you can make intuitive eating second nature again.
I'm going live in my private Facebook group, so if you aren't yet a member of our group, click here now to join us for free.
Here's what you'll learn during our Facebook Live training:
The #1 reason you struggle with implementing the intuitive eating principles
What it really takes to make intuitive eating a part of your being
How you can be at peace with food and yourself so you can enjoy life to the fullest
Oh, and if you are not on Facebook and want to watch the replay, just send me an email to Bonnie@DietFreeRadiantMe.com and I'll send you the recording.
http://dietfreeradiantme.com/wp-content/uploads/2017/09/Copy-of-FB-Live-making-IE-second-nature-for-bus-page.jpg
800
800
Bonnie R. Giller
http://dietfreeradiantme.com/wp-content/uploads/2018/08/DFRM_340x156.jpg
Bonnie R. Giller
2017-09-06 08:30:44
2017-09-06 01:02:05
When Eating is a Non-Issue and Food Decisions Just Happen