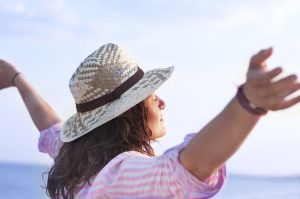 "Intuitive eating. You mean I can eat whatever I want?"
This is a common question I hear from people when I introduce them to this practice of relating to food.
To someone just hearing about intuitive eating, it sounds glorious, almost too good to be true.
"You mean I can eat all those foods I've deprived myself of all those years? And still lose weight? Where has this been all my life?"
Today I want to address 2 misconceptions about intuitive eating:
Intuitive eating is not about losing weight.
Intuitive eating is not about instant gratification.
Weight Loss is Not a Goal
It's very hard for most chronic dieters to immediately embrace the idea that the path towards intuitive eating does not guarantee weight loss. As a chronic dieter, you've started each diet with one goal in mind – weight loss. You were willing to restrict your food intake, say no to eating your favorite foods, even turning down social occasions (where there would be a ton of food you'd have to face) all with the final goal in mind of losing weight.
You're tired of this battle. You are at your wits end. You don't want to count another calorie, point, carb grams or mile walked. You just want to eat. You just want to be.
So, when you hear that there are no food rules in intuitive eating, it sounds glorious.
But what about your desire to lose weight?
It is of utmost importance that you put weight loss on the back burner. This means put it out of your mind for a while. Don't think about it. There is no promise that you will lose weight with intuitive eating. Some people do, some people don't. Some lose weight, some gain weight, some stay the same. Your body will do what your body will do, and no one can tell you what that will be.
You were born with a genetic blueprint of what your natural weight is. All the years of dieting has messed with that natural body weight. So when you finally stop interfering with nature, your body will likely settle in to where it was intended to be all along. This might be at a size or weight that you are happy with, or it might not. The next step is then body acceptance. This is not an easy step by any means, but with the right support, you can get to a place where you really accept and respect wherever your body lands.
Intuitive Eating is Not Instant Gratification
See it, want it, eat it.
That's what a lot of naysayers think intuitive is. But it's far from this.
Intuitive eating is not about eating whatever you want, whenever you want. It's about changing your relationship to food, your mind and your body.
As you move through your intuitive eating journey, you learn to ask yourself questions before you decide to eat. You recall how this food felt in your body the last time you ate it. You turn inward and ask yourself if you are physically hungry or if you are eating because the clock says its time. You explore whether there is an emotion underlying the choice to eat in that moment.
At first, it might seem like you are eating without thought. This is because you have opened up the gates to enjoy all foods, you have taken off the handcuffs that kept you in diet prison, and frankly, you are eating all the foods you didn't allow yourself to eat for years.
This is part of the process, but over time, your eating will normalize. Eventually, you will come to a point that you choose foods that help your body feel energized, not because you think you "should", but because this is what feels good in your body.
Is intuitive eating glorious? You betcha!
But embark on this journey for the right reasons: to change your relationship with food and your body so you can live a fun filled life without food worry and body shame.
To learn more about intuitive eating, click here.
http://dietfreeradiantme.com/wp-content/uploads/2018/10/Woman-larger-bodied-arms-in-air.jpg
1116
1681
Bonnie R. Giller
http://dietfreeradiantme.com/wp-content/uploads/2018/08/DFRM_340x156.jpg
Bonnie R. Giller
2018-10-31 08:30:47
2018-10-23 15:20:32
Intuitive Eating Sounds Glorious. Count me in!