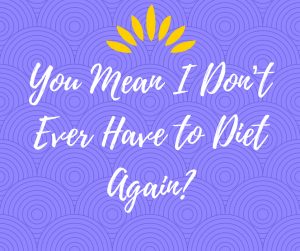 "Why haven't I heard about intuitive eating before today?"
This is a common question that I get from clients who sit opposite me in my office (or on Skype) when I share with them how they don't ever have to restrict or deprive themselves of their favorite food again.
They don't quite get it at first. They come to see me because they don't feel well in their bodies, they are carrying around excess weight, and they figure they need another diet to help them achieve the weight loss that they've been chasing after for years. They expect me to give them a list of foods to eat and those to avoid and a "meal plan" for them to follow.
When I tell them that I won't do that, they look at me in shock. But then when I explain to them that they have it within them to make food decisions for themselves, they perk up and want to hear more. By the end of the session, they are SO RELIEVED that I am NOT giving them a meal plan it's palpable.
It's not surprising to me that many women still haven't heard about intuitive eating. This is because they are surrounded by diet culture every where they turn. At home, at work, in school, in temple, in church, and in the local park. Add to that magazines, television shows, movies, radio, social media, and the list goes on and on. It's hard to escape the idea that you need to be thin to be worthy, and if you are in a larger body, then you must be lazy, unhealthy, and undisciplined.
This has led you to continuously strive to lose weight through dieting and "be better".
But dieting is exhausting. All the counting, tracking, weighing and measuring, it gets to be too much at some point. Yet that's what you know and that's what you continue to do.
There is another way! It's called Intuitive Eating.
Intuitive eating is eating based on your physiological need to eat, not eating based on situations you find yourself in or emotions you may be feeling. Intuitive eating is learning to eat based on your hunger cues and to stop eating based on your fullness cues.
You are born with this ability yet its buried deep within you from all your years of dieting.
The good news is that you can reclaim being an intuitive eater and recapture the pleasures of eating. It will take time but it IS possible and quite honestly, is the only way to end your battle with food and your body.
I invite you to reach out to me to get started on your intuitive eating journey. We can work together privately, or you can join my online program where you work through the process with group support.
Just click HERE to send me a message that you are ready to end dieting for good. We'll figure out together which is the best option for you.
http://dietfreeradiantme.com/wp-content/uploads/2018/07/Dont-diet-again.jpg
788
940
Bonnie R. Giller
http://dietfreeradiantme.com/wp-content/uploads/2018/08/DFRM_340x156.jpg
Bonnie R. Giller
2018-07-25 08:30:16
2018-07-24 20:37:36
You Mean I Don't Have to Ever Diet Again?