This week's Intuitive Eating Wednesday Question comes from Kristy, a member in my online community.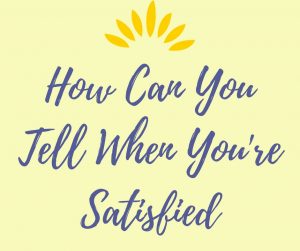 She asks:
"How can you tell when you're satisfied??"
A short straight to the point question. But often so difficult for someone to figure out.
Kristy is referring here to when she is eating a meal, how does she determine when she is satisfied enough to stop eating.
If you're someone who has dieted for quite some time, then likely you're also struggling with not being able to hear your fullness signals. The mere act of dieting causes your signals to atrophy.
Why?
Because you aren't using them. You are stopping your meal when the diet plan tells you that you have had enough. You are pushing the plate away when it's empty. You are putting your fork down based on a limit imposed on you by an outside source. This means, it's a source external from your internal signals that truly guide your eating.
Remember, you were born an intuitive eater. You were born knowing when you were hungry to start eating, and when you felt satisfied to stop eating. You didn't need to ask this question, because it was just a feeling you had. And, you TRUSTED it, because you knew no other way but to trust your body.
All these years and oh so many diets later, you no longer feel those signals. And, you don't have that trust in yourself either.
Which makes it so difficult to know when you're truly satisfied enough to stop eating.
Okay, so you get this. But now what?
I'm not going to tell you how to feel your signals. This is something you need to relearn. And it IS POSSIBLE, with the right support, as you travel down your intuitive eating journey.
But before you do, you must do these 5 things:
Make the commitment to never diet again.
Re-affirm this commitment to never diet again.
Stay strong in this commitment even though you are surrounded by diet culture and its harmful messages (and family and friends that might be dieting and want some company).
Move away from determining success on your journey based on a number on a scale.
Re-affirm your commitment to never diet again
You see, if there's any part of you that is still holding on to "maybe that will help me lose a few pounds", then you will turn intuitive eating into the hunger-fullness diet (aka 'The Intuitive Eating Diet').
I've seen this happen way too many times. So, check in with yourself and ask yourself if you're truly ready to leave your dieting habit and the scale behind.
Let me know in the comments below.
http://dietfreeradiantme.com/wp-content/uploads/2017/10/Tell-when-satisfied.jpg
788
940
Bonnie R. Giller
http://dietfreeradiantme.com/wp-content/uploads/2018/08/DFRM_340x156.jpg
Bonnie R. Giller
2017-10-04 08:30:37
2017-10-03 18:09:58
How Can You Tell When You're Feeling Satisfied?