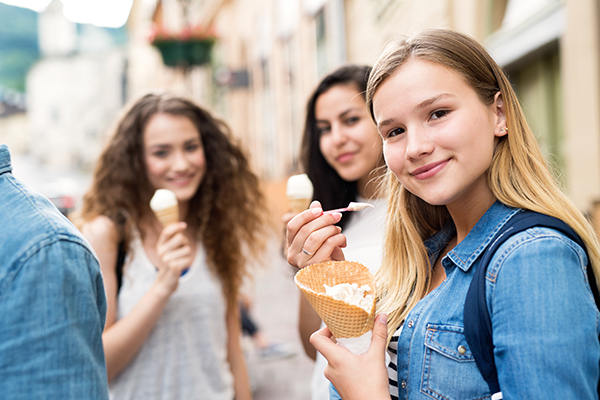 Is your teen daughter or son struggling with their body image?
Has your teenager been dieting in an effort to lose weight which has led to frustration, low self-esteem, and binge eating?
Societal beauty standards tell your teen that beauty is based on looks and body size. This leads them to internalize messages that they are not good enough if their body does not measure up to these beauty standards.  
The result? Body dissatisfaction > dieting > disordered eating > eating disorders.
Over 50% of teen girls and 30% of teen boys use unhealthy behaviors in an attempt to lose weight.
Is your child one of them?
The teenage years are formative years and will define your teens relationship with food, their bodies and their self-esteem for many years to come.
My 5 Step Intuitive Eating Program for Teens
I work one-on-one with teens and take them through a 5 step process where they learn to balance their eating and fuel their bodies without dieting while learning to trust their inner hunger and fullness signals as their guide to eating.  
We work together to develop a healthy mindset around food, eating and movement, learn how to manage their feelings without food, and ultimately cultivate a love, appreciation, and respect for their bodies. 
The focus of the program is on mindfulness, creating healthy habits, and establishing WholeBody Trust™ in a caring and supportive environment.
Contact me here or call 516-486-4569 to schedule a consult.
The decision you make today will change the trajectory of your teens relationship with food and body forever.

"Bonnie, my daughter has grown so much working with you in your intuitive eating program. She has made such incredible progress in her relationship with food and her body. Thank you for this life changing experience for her."

"Before working with Bonnie, I really struggled with how I looked. I avoided looking in the mirror, and I hated going shopping with my mom and trying on new clothes. Since working with Bonnie I have gained a new confidence that I never had before. Every day isn't perfect, but I don't need to be perfect and I have learned to love my body and embrace who I am. I'm glad my mom encouraged me to see Bonnie, it was the best decision I have made."

"I had been dieting for as long as I can remember, and I'm only 15 years old! I wanted to stop hating my body and stop fighting with my parents. I was so happy to meet Bonnie. She helped me realize that diets and restriction don't work. Instead, she taught me how to trust my body to know when I'm hungry and full, and to love the person I am, regardless of my body size. I now feel strong and confident in my food choices, knowing which foods to choose for fuel and which for fun. And, I now have more time to spend with my friends and playing sports instead of worrying about my food and my body. I'm grateful for Bonnie."

"In school we never really learned about foods and nutrients. Growing up I was used to eating fast food or whatever my mom and dad put on the table. Now that I am in high school, I get to choose what I want to eat but I didn't know how to choose foods that not only tasted good but were good for me too. I didn't know what to expect when I met with Bonnie. I have struggled with my weight since I was a kid, and I wasn't sure she could help me since none of the other nutritionists I have seen before helped. But Bonnie is different, she helped me understand the role that food plays in my life. Food is no longer a source of comfort for me, it's what fuels everything I do. Bonnie taught me how to choose foods that work with my body and are tasty too. I have learned so much from working with her over the last few months."