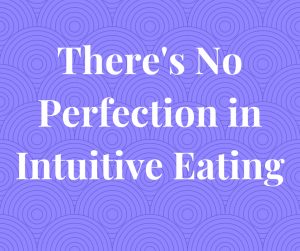 One of my favorite motto's is "There is no perfection in intuitive eating". My clients can recite this in their sleep, they hear me saying it THAT often!
As a past dieter, you've likely fallen into the perfection trap. You have to follow your diet just perfectly, or else you've "cheated", you've "fallen off track", you've "messed up" or you've "failed again". This is a tough way to live, with the "perfection cloud" hovering over your head at all times.
Honestly, there are so many ups and downs in life, it's just not possible to be perfect. Nor, is it necessary. Striving for perfection only leads you to feeling like a failure when you cannot meet that impossible standard you set for yourself.
In intuitive eating, we don't strive for perfection. The journey towards reclaiming your ability to listen to your inner body wisdom is a process where you learn a lot about yourself and you grow in so many ways. What you used to view as a "setback" in your dieting days you now view as a learning opportunity. This is a much more gentle, kind, compassionate approach.
Let me share an example with you.
My son and daughter in law went away on vacation and my young grandsons (ages 5 and 2 ½) were staying with me for a few days. Oh how I love those little boys!! But I will tell you that as little boys go, they are very active and kept me on my toes! I found that my schedule of eating and my choice of foods was out of my routine because I was tending to the boys as they were my top priority.
If I was still a dieter who worried about every morsel of food I ate, I probably would have freaked out that I couldn't follow my "plan" (aka diet). But since I am no longer tied to diets, good and bad foods and harsh self-talk, I was able to go with the flow. No guilt, no freak-outs and no regret. And now that they boys have left, I am back to my routine and feel great.
Life is too short to worry about the little things. And food worry is one of those little things.
If you've been struggling with your relationship with food and your body for years, let's put an end to it. Take advantage of my End of Summer Special where you can get up to 75% off my two most popular intuitive eating programs. Learn more and grab your special savings here!
If you'd prefer one-on-one private sessions with me, just click here to email me to set up a time to speak.
Your turn to take action: What will you do today to rid yourself of the idea that you have to be perfect? Let me know in the comments below.
http://dietfreeradiantme.com/wp-content/uploads/2018/08/No-perfection-in-IE.jpg
788
940
Bonnie R. Giller
http://dietfreeradiantme.com/wp-content/uploads/2018/08/DFRM_340x156.jpg
Bonnie R. Giller
2018-08-29 08:30:45
2018-08-28 16:07:00
There's No Perfection in Intuitive Eating