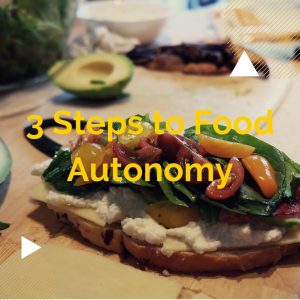 Food is a very personal choice for you. What you choose to eat, why you choose to eat it and how you choose to eat it are decisions YOU get to make around the food you eat. However, there are 2 groups of people that do not honor this choice. In today's blog, I will shed light on who these people are.
 Group #1: Chronic Dieters
A chronic dieter is someone who has been on and off multiple diets over their lifetime chasing a certain body weight, dress size or body shape. As a chronic dieter, you believe that the answer to all your food and weight problems lies in the diet you follow. So each time a new diet comes to market, you get excited and truly believe that THIS will be THE ONE. Unfortunately, even if you do lose weight, you know the way this story ends. You regain the weight lost plus some extra pounds just for good measure.
You no longer are confident in making food choices for yourself. You are so used to following a plan, a menu or rules that have been dictated to you, that when it comes time for you to figure out what you want to eat, you really don't know the answer to (what should be) a simple question. You have given away your food autonomy.
Group #2: "Health Coaches"
The internet is swarming with people who call themselves health coaches. Maybe they took a 90 hour health coach course, or a 3 month certificate program, either way they are now "health coaches". In my opinion, most of them do more harm than good. They give you lists of foods to eat and not to eat, rules to follow, and they spout inaccurate information about grains, dairy and gluten. Some will tell you they are teaching you intuitive eating, but it's really disguised in a diet as they are giving you rules and telling you what to eat.
These health coaches are taking away YOUR free choice around food.
Health Coaches aka Diet Coaches
There's a particular group of these health coaches who I'm thinking about as I write this blog. They lost weight on a liquid diet program (I won't mention the name of one of the programs I'm thinking about when I write this, but if you think hard enough, you can probably guess) and then they "train" with the company to be a health coach. They are big marketers, telling you how amazing their diet is to lose weight and posting before and after pictures to hook you in.
In speaking with these health coaches (yes, I've had conversations with them), they demonize gluten, sugar, and dairy and speak about how they eat as if they have an "I'm better than thou" attitude. But they also slip and say things like "oh my gosh, that pastry looks divine. If I take one bite, I'll eat the entire plate", and "I don't eat gluten except for _____ (fill in the blank) once a week because I just love it and then I start again the next day". (Disclaimer – I'm not saying this about ALL health coaches, but many that I come in contact with).
These statements are reflective of the diet mentality and food battles that rage on!
3 Steps to Food Autonomy
Stop dieting! I know this is so hard because diets feel safe to you. However, they have never worked for you and they never will, so it's time to take a leap of faith and say NO MORE. You have the power within yourself to make your own food choices. I know you do, and I also know that you might not believe that right now. That's okay. One step at a time.
Stop listening to others! Decide that you will no longer listen to those health coaches that are telling you what to eat and not to eat. Instead, seek out a reputable registered dietitian nutritionist who is also a certified intuitive eating counselor who can help you get back into the drivers seat when it comes to food and your body.
Do connect with a community! It's lonely when you are swimming upstream alone. We are all surrounded by people steeped in diet culture. It's likely that your inner circle of family and friends don't understand when you say you are not dieting anymore. Come join the ladies in the Intuitive Eating Mastery Circle for the comradery and support that will help you take charge of your food choices again. As a reader of my blog, you get 50% off your membership. No commitment, you can cancel at any time.
Being in charge of your own food choices is your birthright. Take it back today. I'm here to help you. All you have to do is ask.
http://dietfreeradiantme.com/wp-content/uploads/2018/08/3-steps-food-autonomy.jpg
1080
1080
Bonnie R. Giller
http://dietfreeradiantme.com/wp-content/uploads/2018/08/DFRM_340x156.jpg
Bonnie R. Giller
2018-08-15 08:30:23
2018-08-14 20:39:02
3 Steps to Food Autonomy