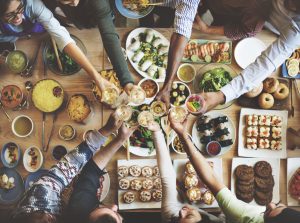 It's all about TRUST! But in whom?
This past week I posted the following "If/Then Question" on my Facebook Page.
You are going out to dinner to celebrate your child's graduation. You have been practicing intuitive eating, but are a little worried about indulging because you are going to your favorite restaurant. You then….
A. Remind yourself that intuitive eating is about trusting yourself with your food choices, and you are regaining this trust day-by-day.
B. Commit to being mindful while eating and will check-in with your satiety level mid-meal.
C. Think to yourself – heck, this is a celebration! I don't usually get to this restaurant often, I'll skip lunch so I'm good and hungry for dinner.
The answers were varied. For those who have worked with me on their intuitive eating journey, or are in the midst of it, they chose option A or B. For those new to the process or that are finding some challenges along the way, they chose C. And that's okay, because remember, this is a process and the process takes time and patience, and is judgement-free!
The feelings of excitement when going to a new restaurant, trying new foods, or celebrating a milestone can dig up some old diet mentality thoughts.
These thoughts may sound like:
I'm going to skip lunch today so I can save my calories or points for dinner.
I won't eat any carbs during the day, because I want to eat from the bread basket at the restaurant.
I'm finishing what's on my plate, this food is so delicious I don't know when I'll get to eat this food again.
If I weigh more on the scale tomorrow morning, I'll just cut back my eating for the day and be sure to choose only "healthy" foods.
All these statements are the food police speaking, screaming at you unreasonable rules. And in each of these cases, what do you think happens?
That's right! You arrive at the restaurant and sit down to dinner in a ravenous state and more than likely, you end up eating to an overfull state. Then you feel physically uncomfortable, emotionally miserable (guilty, shame), and you follow that with food restriction!
Restriction – cutting back on your food intake or choosing only "healthy" foods if the scale is higher the next day – is dieting. It's the opposite of being intuitive.
Your body weight is a measure of the weight of your tissues, which includes your bones, organs, muscle and fat tissue AND the substances that pass through such as water, food and waste. If you weigh more this morning than you did yesterday, it doesn't mean that you have more fatty tissue today because you ate the chicken parm at last night's graduation dinner.
The food police, however, would like to have you think it IS the reason, and therefore it is shouting rules at you to eat less today, to avoid carbs, and to only choose "healthy" foods.
Shout back at the food police by doing these 3 things:
Identify the distorted irrational dieting thought and disarm it.
Recognize that a higher weight this morning may be due to some other reason as your body weight fluctuates day-to-day based on many factors.
Don't weigh yourself. Throw away the scale and begin to cultivate the trust in your body to make food and nutrition choices that are right for you.
It's all about the TRUST!
Need help to learn how to trust yourself, your food choices and your body? I'm an email (or phone call away – 516-486-4569)!
http://dietfreeradiantme.com/wp-content/uploads/2018/05/friends-eating-out.jpg
4631
6232
Bonnie R. Giller
http://dietfreeradiantme.com/wp-content/uploads/2018/08/DFRM_340x156.jpg
Bonnie R. Giller
2018-05-02 08:30:21
2018-05-01 14:35:07
Celebration Dinners, Food Police and Trust