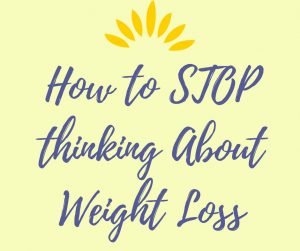 You've embarked on your intuitive eating journey because you are finally fed up with diets. After years of chasing weight loss, trying diet after diet, your body weight is back where you started. Or perhaps, like 1/3 – 2/3 of people who regain the weight they've lost, you weigh even more.
You are now at your highest weight.
You wonder how this can be, after all, you've tried for 10, 20, 30, 40 maybe even 50 years to lose weight. And yes, you've been "successful" in losing weight on some of those diets. But the weight always returned. The diets were not sustainable for life. Like a young 14 year old girl said to me in my office yesterday…"I said to the doctor, how can I never eat carbs again?"
Maybe you heard me speak about intuitive eating recently on a summit, or you've read the Intuitive Eating book by the original authors and have been trying to practice the principles and become an intuitive eater for a few months, maybe even a few years. Intuitive eating sounds logical to you; you realize this can help you heal your relationship with food. However, you still want to lose weight.
There are many intuitive eating and HAES (Health at Every Size) advocates that would say shame on you for wanting to lose weight. Love the body that you have.
I'm not saying shame on you. I want to acknowledge your desire to lose weight. I want to show you compassion for the physical discomfort you may be experiencing. But I also want to encourage you to put weight loss out of your mind as you work on healing your relationship with food. I know this is difficult.
You see, it's not "weight loss" itself that is problematic, it's the pursuit of weight loss that is the problem. There's a big difference here. 
You've already tried to pursue weight loss via the many diets, restrictions, detoxes, cleanses, food group elimination, and demonizing of foods. All this caused was a disordered relationship with food and your body.
As you begin to change habits, behaviors, thoughts, and feelings around food and your body, you may lose weight, and that's fine. No one is going to say to you "that's terrible, how could you have lost weight!". Your body will do what it needs to do, in its own natural way, in its own time. The interesting thing is that you cannot determine that. Your body determines that.
But please understand that the process of intuitive eating is not a weight loss program. Some people may lose weight, some people may gain weight (especially if they started at a low body weight or a place of severe restriction) and some people maintain their weight.
So, how do you get weight loss out of your mind as you heal your relationship with food?
Write down your WHY! Why do you want to stop fighting with food and your body? Dig down as deep as you need to in order to uncover the true reason. Chances are there is a very meaningful reason why you want to stop the food and body war within yourself. And it's way bigger than losing a few pounds. Then write your meaningful why on an index card or post-it note and put it in a place you see it often. Read it daily and re-commit to it each time your mind goes back to weight loss.
Identify the BIG 3! Instead of constantly thinking about your weight, focus on 3 amazing characteristics that you possess. Unsure what they are? Ask a friend, family member, or your partner. I'm sure they will be happy to share with you how kind you are, funny you are, helpful you are etc. Then on a day that you seem to be worrying too much about your weight, switch it off to focus on the BIG 3!
Seek Support! Every one of us needs support throughout our lives. This includes times like this where you are swimming in new waters. If you haven't yet joined my Intuitive Eating Support Community, come on over. Just click HERE and request to join. The members in this group are here to help you whenever you need it!
And of course. If you want my support on your journey, just send me an email to Bonnie@DietFreeRadiantMe.com . I offer 1-1 private coaching at various levels to walk you through your food and body healing journey.
http://dietfreeradiantme.com/wp-content/uploads/2018/04/Stop-thinking-weight-loss.jpg
788
940
Bonnie R. Giller
http://dietfreeradiantme.com/wp-content/uploads/2018/08/DFRM_340x156.jpg
Bonnie R. Giller
2018-04-25 08:30:19
2018-04-24 13:21:56
How to STOP Thinking About Weight Loss