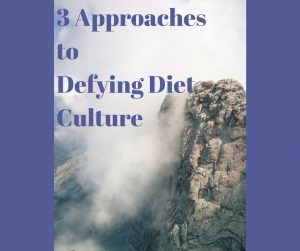 Last week I called out the 3 biggest crimes of Diet Culture. If you didn't read that blog yet, check it out here!
As a quick review, the 3 biggest crimes of Diet Culture are: Dishonesty, Disregard, and Destruction!
Any eating pattern that emphasizes how you look over your mental and physical well-being is detrimental. Diet Culture thrives on dichotomous thinking, also known as black-and-white thinking. Eat foods on the good list and you'll be "thin" (good); eat foods on the bad list and you'll be "fat" (bad). Thin = win!
In reality, no one food has the power to make you "thin" or "fat".
I realize this might not be a popular belief among dieters or programs and people that spew dieting information. But if you think about it long and hard (and re-read that sentence multiple times), I believe you'll come to this realization – eventually.
So what can you do NOW to help you come to this realization before you jump back onto the diet bandwagon?
3 Powerful Approaches to Defying Diet Culture
 Let's address 3 very powerful impactful approaches that can help you defy diet culture.
Non-Diet Living and Intuitive Eating
Non-diet living and intuitive eating used to be less traveled paths, but more people are choosing these with great success. Dieting is physically and mentally exhausting and people are simply tired – tired of dieting and tired of hating themselves, 2 things which go hand-in-hand.
Intuitive eating, along with the Health at Every Size movement, are striving to shift the focus away from body weight and demonizing food. They are displacing the current definition of healthy, broadening it to encompass more than simply a number on the scale. This shifts the perspective inward, focusing on listening to what your body is telling you, and on habits and behaviors for improved long-term health, versus how many pounds you've lost. More and more research is finding practices such as intuitive eating helping people with disordered eating habits become more in tune with their bodies again.
I recognize that the idea of no longer dieting is a scary thought if you've been dieting for many years. Logically you realize that the diets have never given you long term weight loss. In fact, you weigh more now than when you started dieting all those years ago. Research will back that up. Diets lead to weight gain, end of story.
So what would help you on this journey? This takes us to approach #2…
Self-Compassion
Diet Culture thrives on you hating yourself. If that sounds harsh, it's because it is. Dieting is about willpower and when you don't have enough willpower, you start beating yourself up, telling yourself you'll always fail.
Try something different. Try using self-compassion.
You'll find that treating yourself with kindness is much more satisfying because it's impossible to hate yourself into positive change. You'd never dream of speaking to your friend the way you speak to yourself, yet Diet Culture has taught you to do just that. After decades of believing it, be gentle with yourself in your escape from that mentality. It took time to build and it will take a long time to break down. It's important to remember there is no perfection in the healing process. It will most certainly be challenging but you are most certainly worth that effort.
Sounds logical, right? When asked if you'd speak to your friend who is struggling with her food that way you speak to yourself, of course the answer is no, you would not.
Part of this journey is body acceptance. And a very important part of accepting your body where it is now is the 3rd approach to defying Diet Culture.
Weight Inclusivity
Accepting and respecting the shapes and sizes ALL human beings come in defies the perfectionist ideology of Diet Culture. There is no one height/shape/weight everyone should be. Our culture needs to move further toward a mindset where judgement is no longer passed on people who don't meet Diet Culture's moving target of "perfection."
More and more research is supporting the idea that being a certain weight or looking a certain way does not equate to being "healthy" or "not healthy." Intuitive eating and Health at Every Size are teaching internal acceptance as well as acceptance of others, appreciating the diversity. They temper the internal diet wars being waged.
The principles of intuitive eating remind you how different everyone is and helps you to accept and respect your body where it is right now.  It is key to stop passing judgement on others which will make it easier to stop passing judgement on yourself.
So how do you mesh these 3 approaches together, so you can defy Diet Culture?
Start with having a heart-to-heart sit down with yourself. Ask yourself the tough questions:
Has all the dieting I've done helped me achieve weight loss that I can maintain for a lifetime? No.
Do I bash my body every day, maybe even multiple times per day? Yes.
Do I wish food could just be a "non-issue" and meal time can be relaxed? Yes.
Am I afraid to try this new approach of intuitive eating? Yes.
Do I need support and a partner to walk the journey with me? Yes.
Great job! Contact me here and let's defy Diet Culture together!
http://dietfreeradiantme.com/wp-content/uploads/2018/03/3-Approaches-to-Defying-Diet-Culture.jpg
788
940
Bonnie R. Giller
http://dietfreeradiantme.com/wp-content/uploads/2018/08/DFRM_340x156.jpg
Bonnie R. Giller
2018-03-07 08:30:15
2018-03-06 12:33:09
3 Powerful Approaches to Defying Diet Culture