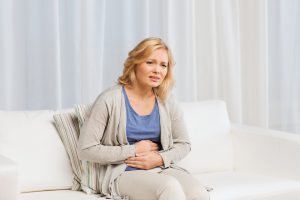 It's Intuitive Eating Wednesday when I answer your questions and troubleshoot your challenges around intuitive eating and emotional eating.
This week's Intuitive Eating Wednesday Question comes from Dorica, and it is:
"Can intuitive eating improve someone's health, such as migraines or upset stomach?"
The short answer is yes! Let me explain.
There are 3 reasons why intuitive eating will help improve your health, specifically migraines or an upset stomach (there are many other ways your health can be improved through intuitive eating, but I am specifically answering this week's question about migraines (or headaches in general), and GI issues).
Intuitive eating is stress-free!
Stress…. it's a very powerful word which has a lot of effects on your body. When you live in a chronically stressed state, the switch to your stress response, known as 'fight or flight', stays on. This affects you in various ways including cognitively (memory problems, difficulty concentrating), emotionally (moody, irritable, depression), behaviorally (sleeping problems, social withdrawal) and physically (bowel irregularities, nausea).
What causes stress? Dieting! Hands down, calorie counting, restricting food, tracking points, logging your food into an app – all causes stress. And this stress triggers your internal stress response. As long as you continue dieting, you will stay in a stressed state and deal with the negative effects of it.
Once you decide to give up dieting and embrace the path towards intuitive eating, it's like a ton of bricks is lifted off your shoulders. The stress disappears, and I bet you'll see the headaches and gastrointestinal discomfort does too.
Intuitive eating results in more consistent eating patterns
When you ditch eating by the clock, as most diets tell you to do (you know, all those rules that you follow), you learn to tune into your inner hunger and fullness signals. This likely results in a more consistent pattern of eating, specific to your inner wisdom. This consistency will improve the gastrointestinal symptoms you are experiencing, a.k.a. an upset stomach. And, will decrease any headaches that might have come from low blood sugar due to an inconsistent eating pattern.
Another point here to make is this. If you are still dieting, you probably find yourself in the restrict-binge cycle. So you restrict foods that you deem as bad for you, but at some point you can't take it anymore. So, you end up eating said foods, but you don't just have some, you overeat on those foods, leading to a binge. Then, you experience a flare in your IBS or other GI symptoms. Your mind goes right away to "You see, I can't tolerate those foods", but in reality, it's the dosage of the foods you are eating, not the actual food itself.
So, give up dieting and restriction and embrace intuitive eating. You will find that you have more energy and your stomach is digesting food just the way nature intended.
Intuitive eating encourages you to tune inward.
When you practice intuitive eating, you are engaging in mindful eating practices along the journey. That means you are learning to slow down, savor your food and tune in to how your body feels after you eat something. You are moving from auto pilot eating into conscious eating and this allows you to attune, not only to your inner signals, but also to your body's reaction to food.
As a dieter, you listen to what the diets or health gurus tell you to eat. Many times, you don't even enjoy it. Most of the time, you finish your meal and have had minimal to no pleasure in it. As an intuitive eater, you have rediscovered the pleasure in eating. If you had pleasure after eating when you were dieting, it was likely accompanied by guilt. That guilt turned to shame.
No more.
Without the guilt and shame and food worry, you can listen to what your body tells you in terms of how it feels. Then the next time you are about to decide whether to eat a food or not, you'll remember how you felt the last time you ate it. Did your belly hurt? Did your blood sugar plummet? These factors will then play a role in whether you decide to eat that food or not.
Wow! Isn't intuitive eating amazing?
Yes, it is!
Ready to start YOUR intuitive eating journey? Just email me and say "I'm Ready!"
http://dietfreeradiantme.com/wp-content/uploads/2018/01/Woman-upset-stomach.jpg
3840
5760
Bonnie R. Giller
http://dietfreeradiantme.com/wp-content/uploads/2018/08/DFRM_340x156.jpg
Bonnie R. Giller
2018-01-24 08:30:20
2018-01-30 20:02:17
How Intuitive Eating Impacts Your Health