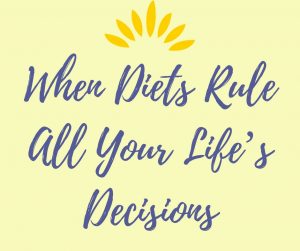 This week's Intuitive Eating Wednesday topic is inspired by a client of mine who shared her frustration about some members of her family who are dieting. I will only share the relevant info, as to protect the privacy of her and her family.
We are knee deep in December and holiday festivities. My client, let's call her Jane, has given up dieting 3 months ago when she committed to working with me in my Freedom to Eat Forever™ 5 Step Intuitive Eating Program. She is so happy and so sure she is NEVER going to diet again, and she is enjoying the holiday parties she is attending without fretting about the food that will be served (what a relief for her, can you relate?)
So why is she frustrated?
Her family holiday party is coming up. She was in charge of hosting this year and she takes pride in planning a fun time for her immediate and extended family, both with delicious food and fun, interactive games. But here's what happened.
She got a call from a family member who basically told her that she would like to host the holiday party this year. Jane asked her why and told her she's already been planning and prepping. But her relative said that she just really wants to, and to PLEASE let her. Well, Jane felt she had no choice but to say okay. Only later did it occur to Jane why this relative was so insistent.
Can you guess? I'll tell you.
This relative, her husband and her adult children are all on a diet. They've been losing weight and have been boasting about it all over social media. The diet they are on is quite restrictive, although they'll tell you it's a "healthy lifestyle". Yep, the diet companies have hijacked the words "healthy lifestyle' and are masking their diet rules under the guise of eating healthfully. And worse yet, the diet company encourages their dieters to pull other people into their web "If I did it, you can too!".
Jane's family members don't want to be tempted by food they cannot eat. Yes, I said 'cannot' eat because when one is on a diet, they have a list of foods they can and cannot eat. Jane remembers last year's holiday party when this family was just beginning this diet. They came to the holiday party and were salivating over the food, and were found sneaking bites in the kitchen. They were overheard saying, "it's okay, we'll get back on tomorrow'.
Oh, so sad, just so sad. Is this how you want to live your life?
Do you want your diet to rule your life's decisions?
Decisions such as:
"Do I go with my spouse to his holiday party or not?"
"Should I go with my friends on that cruise?"
"Will I attend that party I was invited to, or make up an excuse why I cannot go?"
"Should I breastfeed my baby? Hmm, I'm drinking these chemically-filled weight loss shakes, so perhaps not."
If you resonate with any of this, it's time to realize that the diet you are on is RULING YOUR LIFE! You are not living free! You are probably thinking about food 24/7. "What did I eat, what am I eating, what will I eat?"
This my friends, is FOOD OBSESSION. Yes, dieting causes food obsession.
I'd like to encourage you that you don't need to rely on any diet. You can trust yourself to make food decisions on your own. I recognize that if you've been dieting for a while (and most likely if you are following my work you have been), then you have lost that trust in yourself and your food choices. But with the right support, you can learn to trust yourself again.
You know how to eat. You know about proteins, carbs and fats. You know how to balance your plate. I'm not saying there aren't some things you can learn. I'm sure there are. But you know the basics. You don't need to be drinking shakes, eating bars or following a diet that doesn't let you live your life to the fullest.
Commit right now to stop the madness. I've got your back.
Comment below: "I will no longer let a diet rule my life's decisions".
http://dietfreeradiantme.com/wp-content/uploads/2017/12/Diets-rule-lifes-decisions.jpg
788
940
Bonnie R. Giller
http://dietfreeradiantme.com/wp-content/uploads/2018/08/DFRM_340x156.jpg
Bonnie R. Giller
2017-12-13 08:30:19
2017-12-08 14:58:35
When Diets Rule All Your Life's Decisions