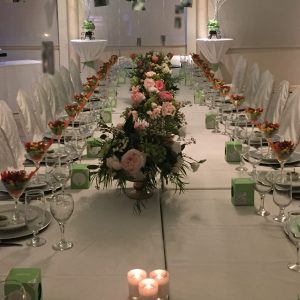 It's Thanksgiving and I couldn't be more excited. I just love this holiday where we stop and say thanks and show gratitude for all we have in our lives.
I also love cooking all the traditional Thanksgiving dishes. Since I'm off from work on Thanksgiving, I take my time cooking, with my daughters by my side helping. No pressure, no rushing, just some music, laughter, great conversation and recipe making.
We then sit down to an intimate meal with my immediate family and bond. I love it.
But for the intuitive eater in training (that might be you if you are in the midst of your journey), the whole thought of sitting down to a Thanksgiving feast might be intimidating. Maybe you still have some food fear and haven't fully allowed all foods into your life yet. Or, maybe you have made peace with food and feel super comfortable approaching this holiday meal, but the issue you are worrying about is what others might say or think when they see you eating stuffing, sweet potatoes and pecan pie.
Let me back up and explain.
The Struggle for an Intuitive Eater in Training
You have been on your intuitive eating journey for some time. You have made peace with food and your body, and you are ready to approach your very first Thanksgiving as an intuitive eater. You have no qualms about eating what you love. But, what about all those family members who have seen you dieting for most of your adult life?
You know the ones. Your sister-in-law, mother, or cousin who have dieted with you in years past and who have joined in with you at the holiday meal saying things like "I shouldn't eat this but …..", or "this has SO many calories, and is SO bad for me, but I'm going to eat it anyway".
They are probably still dieting, but you aren't (lucky you)! But when they see you eating and NOT commenting with them about how guilty you feel or how stuffed you are, you may feel they are judging you.
Or, there may be family members who just know you as the 'dieter' and have never seen you eat in public. They don't realize that when you've restricted in the past, you'd just go home and eat whatever you can find. So for them, they may say outright to you: "YOU eat that now? I've never seen you eat this."
3 tips to shut down the diet and food talk at your Thanksgiving table:
Say with confidence: "Yes, I eat all foods. Food is just food". And, leave it at that.
Say with boldness: "Please do not comment on what I am eating. Let's focus on the beauty of the holiday, not my food."
Say with firmness: "This house is a diet-free talk zone. We don't discuss diets or shame people for eating. Thank you for respecting this house rule".
The most important person is YOU. Have confidence in yourself and in your food choices that you are making to honor and respect your body. You are in the drivers seat now, you are no longer a passenger on the diet train.
If you'd like my support at any point on your journey, just reach out to me HERE.
Have a wonderful Thanksgiving!
http://dietfreeradiantme.com/wp-content/uploads/2017/11/Table-setting-pretty.jpg
1836
1836
Bonnie R. Giller
http://dietfreeradiantme.com/wp-content/uploads/2018/08/DFRM_340x156.jpg
Bonnie R. Giller
2017-11-22 08:30:08
2017-11-21 15:27:35
3 Tips to Shut Down Diet and Food Talk at Your Thanksgiving Table