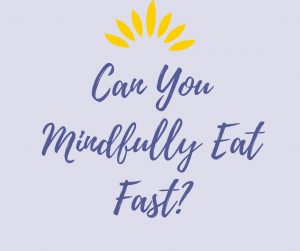 Mindful eating. Sounds simple doesn't it?
Actually, it's not! If it was, many more people would be doing to. Why is it so difficult to eat mindfully?
I think a big reason is the chaotic lifestyle that a lot of people live.
We live in a society where we are constantly running, running, running, doing, doing, doing. If we aren't 'running' and 'doing', then we are considered lazy.
When we have a chaotic lifestyle like this, chances are our eating is chaotic as well. We don't plan, and even if we do, we don't have time to carry out the plan, so we just grab what we can when we can.
Some people call this winging it.
Do you experience this?
Let me share a story with you. This is an experience that happened to me 2 weeks ago.
It was Wednesday.
Wednesdays are very busy days for me with client appointments often back-to-back. I planned a lunch break into my schedule, but this particular Wednesday morning time got away from me. It was 12:40 pm and I was 10 minutes late to leave the office for lunch. But, I figured that's alright, my next appointment isn't until 1:30 pm, so I will work for another 10 minutes to finish up a project, and then I'll still have 40 minutes left for lunch.
My assistant then says to me, "Bonnie, you need to break for lunch. Your next appointment is in 20 minutes at 1:00 pm"!
I jumped up, looked at my appointment book and in fact, the next appointment was only 20 minutes away. I made a mistake in my timing. I was noticing gentle hunger, and I knew I needed to eat lunch before my next appointment, otherwise I won't have a break for many hours.
I left the office, went to my kitchen and prepared my lunch. I was intending to have soup and a salad (I love soup and it was a bit chilly out), but noticing the time, I knew I would not have enough time to mindfully eat and enjoy.
So, I changed course.
I asked myself what else would I enjoy eating now, that I can prepare quickly and not rush eating? The answer was a sandwich.
By the time I sat down to eat the sandwich, I had 10 minutes to eat. Oh no, I thought. Can I mindfully eat my sandwich in 10 minutes?
The answer is YES!
Here are the things 3 mindful eating strategies I used that you can use too when you are in a hurry, and still want to eat mindfully:
Sit down at the table, do not eat standing. This is so important. If you eat while standing at the counter, or running around the kitchen, you won't actually process that you just ate your lunch. So, while you may fill your belly, I can tell you that psychologically you won't feel satisfied and you'll be searching for something to eat the moment you have a break.
Put your fork down in between bites. Or, in my case, I put my sandwich down in between bites so I can focus on what's in my mouth and not on the next bite I am about to take.
Avoid all distraction. Mealtime is not the time to catch up on your texts, emails or the local news. Give your food the attention it deserves.
I mindfully ate my sandwich in 10 minutes and returned to the office just in time for my next client appointment. I felt satisfied, both physically and psychologically.
Now it's your turn: Tell me a time when you have eaten mindfully when in a rush! Comment below!
http://dietfreeradiantme.com/wp-content/uploads/2017/11/Mindfully-eat-fast.jpg
788
940
Bonnie R. Giller
http://dietfreeradiantme.com/wp-content/uploads/2018/08/DFRM_340x156.jpg
Bonnie R. Giller
2017-11-15 08:30:33
2017-11-14 18:21:51
Can You Mindfully Eat Fast?