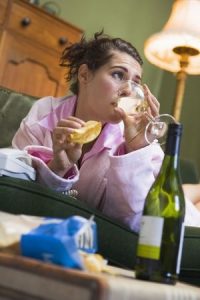 You've worked really hard to get the amazing body you have now. You've been on diet after diet but this last one was THE one. You lost the weight you wanted to, but to do that you eliminated lots of foods that you love.
You know what I mean. Bread. Simple good old-fashioned bread. The kind you make a sandwich with.
Sandwich you say? Oh, you haven't eaten a sandwich in years. As a matter of fact, if you're being honest with yourself, you're probably afraid of eating a sandwich. If you eat a sandwich, your inner critic starts screaming at you that you'll gain the weight back, you'll get fat again, and tomorrow you'll wake up with an additional 3 pounds on your body. Bread is bad!
Does this inner critic voice sound familiar to you?
To quite the voice, you stick to the rules you followed that helped you lose the weight. No bread. No pasta. No cookies, No ice cream. No carbs!
People admire your body, tell you how great you look, how good you are when they see you eating your salad for lunch. But when you get home after a long hard day at work, what happens?
Fatigue, hunger, deprivation all set in and you have just one cookie. But that leads to feeling guilt and shame, and then another cookie. Then you feel even more guilt, shame and alone, and that leads to finishing the cookies and binge eating for the next few minutes, hours or even the rest of the evening.
But no one knows, except you! It's a secret you are hiding from the world. You look perfect, you act perfect, and you eat perfect. Who would know that your dirty little secret is that you binge eat at night all the foods you don't allow yourself to eat during the day.
How can you get out of this binge eating trap?
3 Steps to Stop Binge Eating
Stop restriction yourself and allow all foods into your life again. I know this is so scary! But it's important if you are ever going to have peace with food and your body.
Be aware when you are binge eating. Don't numb out like you usually do. Stay present, experience it and you will find that you will stop eating before the cookie package is finished.
Breathe through it! Yes, identify the emotions you are feeling and breathe through it. Once you know what the true underlying feeling is, you can address it without food.
You are not alone. There are others who are experiencing exactly what you are! Seek out the support you need to beat binge eating. You don't need to fly solo.
There's a community of women ready to welcome you who understand what you are going through. Click HERE to get the support you need.
http://dietfreeradiantme.com/wp-content/uploads/2017/10/Girl-eating-chips-alone.jpg
450
300
Bonnie R. Giller
http://dietfreeradiantme.com/wp-content/uploads/2018/08/DFRM_340x156.jpg
Bonnie R. Giller
2017-10-18 08:30:51
2017-10-19 15:26:23
Revealing Your Dirty Little Secret…Night Time Bingeing