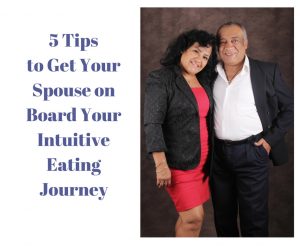 There are many women that I coach in my 5 Step Intuitive Eating Program who complain to me that their spouse is not supportive of their journey. This is either because they just don't get it or they think that you should be able to "do it on your own".
They may say to you, "just stop eating", and don't understand it often isn't even about the food.
Do you find this to be true about your spouse?
Let's explore this further…..
Perhaps your spouse himself is a dieter and isn't ready to stop dieting.
Or, he doesn't see an issue with your eating and doesn't understand your need to make changes.
If we go even deeper, he may fear that your relationship will change once your relationship with food changes. After all, who will he binge eat at night with while watching TV?
Whatever the reason, there are ways to get your spouse on board with your intuitive eating journey. And, there are ways you can approach the topic of support with him without him getting defensive.
5 Tips to Get Your Spouse on Board:
1. Share your BIG WHY with him – This will help him understand why you've made the decision to no longer diet and why you are making changes in the house. If you explain to him your desire to be more in tune with your body and why this is important to you, he'll know more of what you need, i.e. no T.V. while you eat dinner.
2. Be open with your struggles – Sometimes your spouse can be threatened by your new way of living because as we said, he may be a yo-yo dieter and is not ready to stop dieting.  It can be helpful to show him that it's not that you're better than him; it's that you are ready to end your struggle as you've come to the realization that diets don't work for you. And, you need help. Explain to him that you are struggling with your relationship with food and need to make changes in your own life to help form a stronger, and healthier relationship with food.
3. Be specific with the support you need from him – Remember that your spouse isn't a mind reader!       If you want help from him, you need to specifically ask him for it. The more specific you are, the more support and help he will be able to give. If he always suggest to go out to dinner for happy and sad occasions, ask him if you guys can do something else together that doesn't revolve around food for those same occasions.   Whatever it is, just be specific!
4. Understand it's not about you, it's often about him – Unfortunately, your spouse may not understand what you are going through and won't want to make changes in his own life, even if they are better for you. If that's the case, remember it's about him and has nothing to do with you. You can still change your relationship with food and look for support from friends and others on the same journey as you. Hopefully once he sees how happy you are with your changes, he'll get on board too! (If you are looking for support on your intuitive eating journey, join us in my Intuitive Eating Mastery Circle. Find out more here!)
5. Don't try to change him, that will never work – You can't force your spouse to change his lifestyle just because you want him too. Although it would be nice and better for you, he doesn't need to change.  You are still able to change your own relationship with food, even if he doesn't change his.
If you are looking for more help on how to get your spouse on board, please reach out to me. I can help you. Answer a few questions at TalkWithBonnie.com and I'll be in touch to set up a time to talk.
Your Turn to Take Action: What steps will you take this week to get your spouse on board with your intuitive eating journey? Let me know in the comments below!
http://dietfreeradiantme.com/wp-content/uploads/2017/10/5-Tips-to-Get-Your-Spouse-on-Board-Your-Intuitve-Eating-Journey-Journey-.jpg
788
940
Bonnie R. Giller
http://dietfreeradiantme.com/wp-content/uploads/2018/08/DFRM_340x156.jpg
Bonnie R. Giller
2017-10-11 09:00:19
2018-10-09 10:45:26
5 Tips to Get Your Spouse on Board Your Intuitive Eating Journey