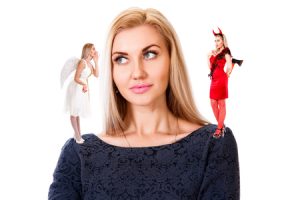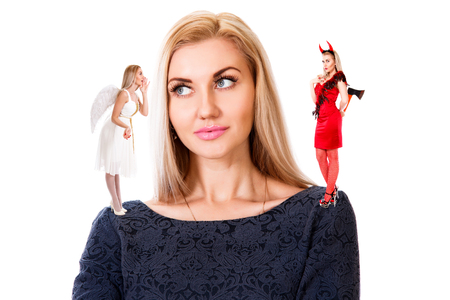 Do you have a set of unreasonable rules that dieting has created? Is your head constantly filled with chanting words that promote or demote you from eating food that you love?
This is the "food police" voice that is constantly telling you what you should and shouldn't eat. It's sort of like the angel and the devil sitting on your shoulders, one telling you it's okay to eat the chocolate cake, but the other yelling "NO" don't do it.
Let's say you decided to have that chocolate cake and the "devil" is sitting on your shoulder beaming with pride because you followed her advice. But, as soon as you eat that cake you feel guilty about the amount of calories and fat that you just consumed. Even though you enjoyed the chocolate cake, you still feel guilty.
Most chronic dieters have this sense of guilt each and every time they eat something that the "food police' is saying they shouldn't.
This is the voice that can make it hard to choose foods your body is really asking for.
The media and various companies place thoughts in your head related to nutrition and ways to "cheat" and make yourself feel guiltless because of the way these food items are advertised. The slogans and jingles are created to convince you that this cookie will prevent you from being "bad" on your diet, and will keep you on track.
These are the advertisements that cause you to have negative food thoughts and judgments towards food.
You are not born with these food judgments; you develop them over the years of dieting and being influenced by the media (or friends/family) penetrating these images of good vs. bad in your head.
The next time you pick up a food item that you enjoy and you contemplate "should I or shouldn't I", take a moment to listen to your body and the food talk going on in your head.
Push away the negative thoughts and change the tape that plays in your head. If this is a food that you truly desire, go ahead and enjoy it without guilt in a very mindful way. Eat the food slowly, truly savoring each bite. Put your fork down between each bite and let the food settle in your body. Describe the texture of the food? How does it taste? Are you enjoying each bite?
When you start to eat food mindfully, you'll learn your true food preferences and be able to identify fullness more easily because you are giving your body the time to talk to you.
It is important to realize that this one food eaten in this one moment will not make you gain weight. You may actually find that you don't love the chocolate cake as much as you thought you did.
Are you stuck in a dieter's mindset due to your "food police" and negative self-talk? I can help you reframe that negative talk and turn it into something powerful. You can change your thoughts and get rid of the guilt around food!
Head over to TalkWithBonnie.com and answer a few questions – we'll pick a time to talk that works best for you.
http://dietfreeradiantme.com/wp-content/uploads/2017/09/Angel-devil.jpg
300
450
Bonnie R. Giller
http://dietfreeradiantme.com/wp-content/uploads/2018/08/DFRM_340x156.jpg
Bonnie R. Giller
2017-09-20 09:00:53
2017-09-20 00:12:08
Shutting Down the Food Police