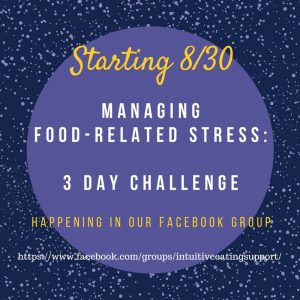 Food is supposed to be enjoyed. Yet, when speaking with so many clients, and potential clients, they tell me that food is stressful. All aspects of food, whether its deciding what to eat, shopping and preparing food for meals, or even the thought of going out to eat food.
Stress, stress, stress!
Do you feel the same way?
If you have had a difficult relationship with food for some time now, then you can probably relate.
I know you probably want food to be a non-issue in your life. And you know what? It can be.
Let's first start with 3 strategies that you can put into place immediately to help you minimize the stress around food.
Strategy #1: Set up your environment for success.
While I'm all about teaching you how to be intuitive in your eating (of course…I teach intuitive eating!), I am also very practical. It is important to be mindful of your eating and one way to do that is to reduce your external eating cues. That means put all food away after you've eaten and don't leave food on the counters or table. If food is left out, it can very easily lead to mindless munching which then leads to feelings of guilt and frustration for eating when you weren't hungry.
Strategy #2: Seek assistance from your family members.
Food shopping and meal prep doesn't have to just be your responsibility. Get everyone involved in the menu planning. Even better, assign everyone a night to prepare the dinner. This way the whole family is involved, the kids will more likely eat what they help to prepare, and you get quality family time too.
Strategy #3. Start to use meditation and visualization. Meditation can be a powerful tool to help keep your mind clear and stress-free. You can use meditation as a way to visualize yourself being stress-free around food and, by visualizing that, you can start to believe it will happen too.
These strategies are a good place to get started and you can use them as a way to figure out what works best for you.
But I have more!
Come join my 3-Day Challenge – Managing Food-Related Stress.
It starts TODAY, August 30th and runs through Friday September 1 and is happening in my Private Facebook Group.
Download your free e-Book "How to Manage Food-Related Stress" (which we are using throughout the challenge) as a tool to teach you ways to manage your stress around food.
Head over to our Private Facebook Group to see what Day One of the challenge entails!
See you there!
http://dietfreeradiantme.com/wp-content/uploads/2017/08/Stress-challenge-business-page.jpg
800
800
Bonnie R. Giller
http://dietfreeradiantme.com/wp-content/uploads/2018/08/DFRM_340x156.jpg
Bonnie R. Giller
2017-08-30 08:30:19
2017-08-29 20:26:43
How Do You Handle Food-Related Stress?