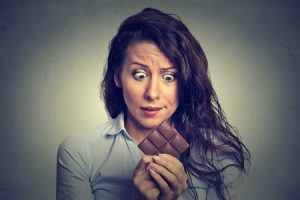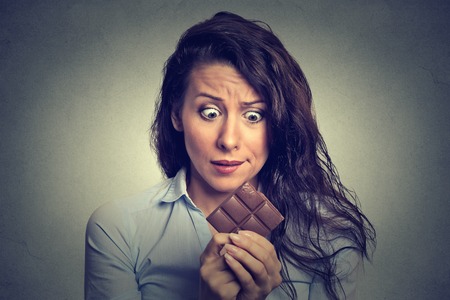 Overindulging in a food item that you restrict is common if you are a chronic dieter. This is called deprivation backlash-rebound eating.
Here's a common scenario: you deprive yourself of a certain food, such as your beloved chocolate because you are on a diet and you are not allowed to have chocolate, right? Well an old-time friend comes to visit and brings you a box of chocolates. You put it away vowing you will not open it. A family member spots the chocolate, opens the box and enjoys a piece. Now what do you do?
You think to yourself, "I'm not going to have any, I'm on a diet and I'm doing so well". You walk away.
A few minutes later, you think to yourself, "Hmmm, I'll just have one, really only one." You eat one. It was yummy.
A few minutes later, "I'll just have one more". And then…"Oh shucks, I blew it. I might as well finish the box, there are only 4 more. I promise I will start my diet again tomorrow, and I won't eat chocolate again!"
Sound familiar?
You probably truly believe that you won't eat chocolate again, or do you? You now feel guilty and as a punishment you skip dinner only to find yourself bingeing into the evening.
The above example is only one example of the backlash that happens when you deprive yourself of a food you love. You rebound by eating, and overeating.
There are many different forms of rebound eating.
Have you ever engaged in The Last Supper eating? I have had many clients tell me that the night before their first appointment with me they ate all the foods that they thought I would tell them they can no longer eat…. the foods that they thought would be off limits. Boy, were they surprised when I didn't tell them that at all.
Listen, eating shouldn't be this difficult. It's time for you to make peace with food so you can once and for all stop the dieting cycle.
Need help? Click here to schedule a time to chat.
Your turn to take action: Tell me about a time that you engaged in rebound eating or The Last Supper. Share your stories in the comments section below.
http://dietfreeradiantme.com/wp-content/uploads/2017/07/woman-chocolate.jpg
300
450
Bonnie R. Giller
http://dietfreeradiantme.com/wp-content/uploads/2018/08/DFRM_340x156.jpg
Bonnie R. Giller
2017-07-05 08:30:45
2017-07-04 22:33:02
Food Deprivation Leads to Binge Eating