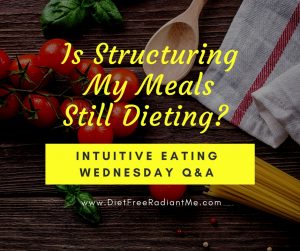 This week's Intuitive Eating Wednesday Question is:
Is it okay to have some structure around intuitive eating? Like having a basic plan to go by, with suggestions of what to eat, especially when you're new to intuitive eating."
This is such a common question, and I'm sure you have been wondering the same thing. It all comes down to 2 questions.
What do you mean by having "structure"?
Do you still possess a diet mentality?
Let's tackle question number one first.
The definition of the word 'structure' according to Merriam-Webster Dictionary is:
"something arranged in a definite pattern of organization."
Arranging your eating pattern for the day into meals plus 'as needed' snacks would be putting a structure to your eating pattern. It's basically laying down some guidelines for yourself so you have a basic idea of what you will eat for that particular day. As long as these are foods that you love and feel good in your body, then what you are doing is planning. And my motto is:
You plan vacations, you plan your children's activities, and you plan work tasks. You plan many different areas of your life. Why wouldn't you plan your meals?
However, if you break out in hives because your plan does not pan out, and you have difficulty being flexible with it, then this meal plan structure is just another diet.
Which leads me to question number two.
Do you possess a diet mentality?
As stated above, if the meal plan structure you've created for yourself leads you to feel deprived of foods you didn't include in your plan because you think they aren't "nutritious" for you, and this leads to overeating or bingeing on these foods when you "just can't take it anymore", then this structure is doing you more harm than good.
This is why the first step on your intuitive eating journey must be shifting your mindset. It requires you to acknowledge all the damage that dieting has done, biologically, health wise, psychologically and emotionally! And not just acknowledge it. Really get down deep to understand why you will never ever diet again. This step takes time. You must not rush it.
Is it scary to no longer diet, and not have a meal plan to guide your eating?
Absolutely. I'm not saying stop dieting and stop paying attention to what you put into your mouth. I'm saying to throw away the diet rules and relax your eating. Eat your meals, and choose foods that feel good in your body because your body needs the nutrition and the energy it gets from food.
It's okay to plan, but be conscious that the planning does not become dieting.
Let's discuss this further on today's Facebook LIVE at 1:30 pm EST on my Facebook business page HERE. LIKE the page now so you get notification when I go live.
If you are reading this after we went live, just head on over to the FB page and you'll find the replay under Videos. I'd love to hear your thoughts, comments and questions.
http://dietfreeradiantme.com/wp-content/uploads/2017/06/Is-Structuring-My-Meals-Still-Dieting-.jpg
788
940
Bonnie R. Giller
http://dietfreeradiantme.com/wp-content/uploads/2015/08/DFRM_340x156.jpg
Bonnie R. Giller
2017-06-14 08:30:36
2017-06-12 18:48:43
Is Structuring My Meals Still Dieting?