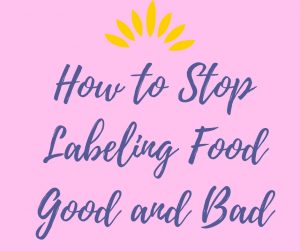 This week's Intuitive Eating Wednesday Question and Struggle comes from 2 women in my Diet Free Radiant Me private Facebook group:
Question:
I know choosing certain foods makes me feel healthy and vibrant. I also know there are certain foods that make me feel the opposite, drain my energy and leave me feeling sluggish. How do I approach health in this way without viewing food as good and bad?
Struggle:
Bonnie, I can't appreciate the body I have now because it isn't healthy. I know losing the extra fat will help those issues. But I can't stop labeling food as healthy or unhealthy. I keep reading not to label foods but we all know broccoli is healthier for you than a Hershey bar. I feel like the extra fat will not go away along with all the health problems until I start feeding myself healthier foods, which feels like a diet. I try to eat mostly healthy but it seems once I eat the unhealthier foods that's all I crave because they do taste better to me. Help!
Both the question and struggle you have just read above have something in common, which is why I am addressing both in the same blog today on Intuitive Eating Wednesday.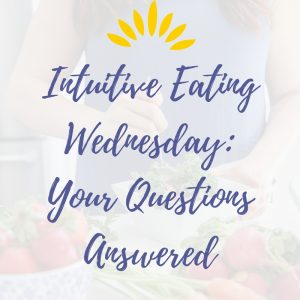 The commonality is…
Food is being labeled. In the first question it's being classified as "good and bad", and in the second struggle it's being labeled "healthy and unhealthy". This is due to your years of dieting and following rules of foods to eat and those to avoid. The foods to eat are 'good/healthy for you foods', meaning they will help you lose weight (or at least not gain weight) and be healthy. The foods to avoid/are unhealthy are 'bad for you' foods, meaning they will cause you to gain weight and be unhealthy.
As long as you continue to think of food in these terms, you continue to harbor a diet mindset. And as long as you continue to harbor a diet mindset, you will continue to struggle.
Download Your Fleshing Our Your 'Good Foods/Bad Foods' Worksheet here.
Even though intellectually you know you feel more vibrant when you eat food A over food B, if you associate food A as a good/healthy food and food B as a bad/unhealthy food, you will continue to crave food B, depriving yourself of it until you have an emotional trigger and you fall into the "what the heck" mode. You then overeat food B, perhaps even to the point of bingeing, followed by guilt, shame, and hopelessness.
It IS possible to shift your mindset away from labeling foods and out of a dieter's mindset. However, this must be done without consideration of the nutritional value of the foods otherwise you are still thinking in terms of good/bad, healthy/unhealthy which will keep you stuck in the diet food rule trap.
This is the very reason that I don't teach nutrition to my intuitive eating clients until Step 5 of my 5 Step Intuitive Eating Program. If we start the process of learning how to nourish your body, yet you have a diet mentality, all the nutrition conversation we have about foods that make you feel healthy and vibrant is heard by you as more diet rules (good/bad, healthy/unhealthy).
Make sense?
Let's discuss this further on today's Facebook LIVE at 5:30 pm EST (note the time change!)
In the meantime, grab this freebie to help you understand your good food/bad food mindset: Fleshing Our Your 'Good Foods/Bad Foods' Worksheet.
http://dietfreeradiantme.com/wp-content/uploads/2017/03/Labeling-Food-Good-and-Bad.jpg
788
940
Bonnie R. Giller
http://dietfreeradiantme.com/wp-content/uploads/2018/08/DFRM_340x156.jpg
Bonnie R. Giller
2017-03-29 08:30:54
2017-03-28 18:59:53
How to Stop Labeling Food as Good and Bad