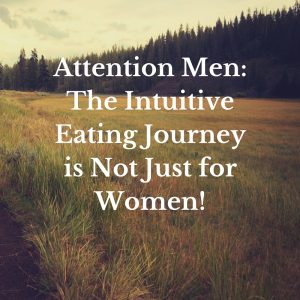 I recently had a potential client express how he was stuck in the dieting mindset.  He had tried many diets before and has lost the weight and gained it right back.  He has feelings of failure and did not know how to break out of the cycle.  I suggested intuitive eating and how it can help him.  He realized that is exactly what he needs, but hesitated for two reasons:
Reason #1: He is so used to wanting and getting results quickly, that to engage in a "food behavior therapy-type" program wasn't going to get him the instant results.
Reason #2: He thought this type of deep work was only for women, and what would people think if he embarked on this journey?
Well, after a few more minutes of conversation, he realized that reason #1 was exactly why he was speaking to me in the first place. Yes, all those diets gave him quick results, but those results never lasted. So, what good were they?
As for reason #2, I get it. Quite a few men think the path towards intuitive eating is more for women than men.
But listen up men! Intuitive eating is not just for women.  Men and women were both born intuitive eaters and the process to reclaim this is unisex and can benefit everyone.
The work I do with my clients in my 5 Step Intuitive Eating Program is a step-by-step process to help you transform your relationship with food, where you end the battle with food and your body and achieve great pleasure in eating once again.
If you are a man reading this blog, I'm sure you have your reasons as to why you assume this process is just for women.  Men don't like to talk about their emotions, right?  May I ask you why?  Is it because of what society thinks? Is it just because men don't "do emotions"?
Men – It is OK to talk about your emotions!  You are not alone.  Intuitive eating will show you and teach you how to cope with your emotions without food!
With intuitive eating, you'll be able to enjoy eating your favorite foods without experiencing the guilt afterwards.  You'll learn to accept your body, and with acceptance comes appreciation of your body.  From there, your mindset will change and you'll be able to build a better relationship with food.  Your body will thank you.
What better time to take charge of your health and break free of the dieting mindset than around Father's Day? 
Here are two steps you can take today to start the journey to become an intuitive eater:
Commit to saying goodbye to the quick – fixes. Truly recognize this isn't your long-term solution.
Take advantage of my Father's Day Gift to you – a Break Free of Dieting Strategy Session. During this session we will uncover the challenges that's been holding you back from losing weight forever, and we will map out your intuitive eating path. Just click here to schedule your free session.
Happy Father's Day!
http://dietfreeradiantme.com/wp-content/uploads/2016/06/Intuitive-Eating-is-Not-Just-for-Women-1.jpg
800
800
Bonnie R. Giller
http://dietfreeradiantme.com/wp-content/uploads/2018/08/DFRM_340x156.jpg
Bonnie R. Giller
2016-06-15 09:00:46
2016-06-14 13:27:57
Is Intuitive Eating just for Women? A True Father's Day Gift!