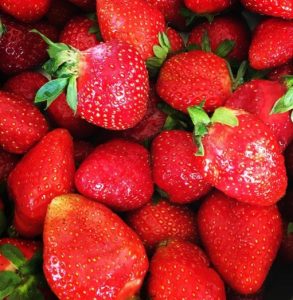 One of my 3 essential ingredients I teach to help you break free of dieting and get the body you love is Nutrition Education. I don't usually write much about nutrition on the 'Diet Free Radiant Me' blog because I typically focus on the first 2 essential ingredients (Healthy Mindset and Caring Support) before embarking on Nutrition Education. But I decided to change it up for today (to read more of my nutrition blogs, visit The Nutrition Key with BRG).
Summer is just around the corner and with the weather finally warming up, it's starting to feel more like my favorite time of year. Summer is a great time to enjoy so many of nature's wonderful fruits like peaches, watermelon, and cherries but the one I look forward to the most is strawberries!
I know, strawberries are available the majority of the year nowadays but they taste so much better during the summer months. These little red gems not only taste great but are also wonderful for your health!
Little Berry with Big Benefits
Strawberries may be small in size (although I saw some really big ones the other day) but they definitely make up for that in nutrient content. Strawberries are an excellent source of vitamin C; one cup of strawberries actually offers 141% of your daily-recommended level of vitamin C. Vitamin C is one of those vitamins of utmost importance. It aids in boosting your immune system and serves as a key antioxidant.
Vitamin C is not the only antioxidant found in strawberries, they contain several other antioxidants, flavonoids, and phytochemicals. These other compounds can help reduce the amount of free radicals in your body, which can possibly help reduce your risk of cancer, inflammation, and heart disease.
Did you know that strawberries are also one of the fruits lower in sugar? One cup of strawberries contains about 50 calories and only 7 grams of sugar! No wonder they make a great snack or addition to any meal!
Add a Little Color to Your Plate
Strawberries make a great addition to any meal! One of my favorite ways to enjoy this berry is in my salads. Typically I chop up whatever veggies I have in my fridge, add some grilled chicken or sliced turkey breast, a spring mix and add sliced fresh strawberries for a touch of sweetness!
Another favorite of mine is to add chopped strawberries to plain Greek yogurt with a drizzle of honey and some chopped almonds or walnuts. The balance of flavors and textures is the perfect start to any morning or afternoon snack.
If you're feeling adventurous, try a strawberry salsa. Just chop up some fresh strawberries, a jalapeno, a half of a red onion, salt, pepper, cilantro, and a squeeze of fresh lime juice. You now have a great topper for grilled fish or chicken or a great dip!
Your turn to take action: Liven up your next meal with some in-season strawberries. Let me know your favorite way to enjoy this summertime fruit!
http://dietfreeradiantme.com/wp-content/uploads/2016/05/strawberry.jpg
523
511
Bonnie R. Giller
http://dietfreeradiantme.com/wp-content/uploads/2018/08/DFRM_340x156.jpg
Bonnie R. Giller
2016-06-01 09:00:11
2016-05-31 17:08:13
Appreciating the Taste and Goodness of Strawberries