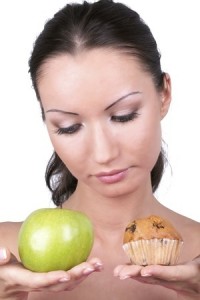 It's no question that obesity is a major concern in the United States. The rise in obese adults in the last few years has given authorities a reason to take action.
Today there are a number of campaigns out there trying to steer the public towards healthier food choices. However, some of these messages are actually backfiring. The reason? Because they're delivering strong negative messages instead of positive ones.
Researchers are finding that negatives messages such as "sugary snacks are bad for you, don't eat them" can actually cause you to choose these foods rather than ignore them. Interestingly, positive messages around sugary snacks that don't illicit negative feelings about eating them have less of an impact in you choosing these foods.
One study from Arizona State University wanted to see if this theory was true. The study included 397 participants who were given a positive or negative message about sugary snacks in the form of an advertisement. Following the ad, the subjects were offered cookies on their way out.
What they found was that people who received the negative message consumed 29% more cookies than those who saw the positive message.
The researchers wanted to further explore the effects of messages on food choices. This included a negative message, a positive message and a balanced message that portrayed even-handed information about the benefits and drawbacks of consuming sugary snacks. In this study, 324 people participated.
The results of the study found that participants who were shown the negative message consumed 30% higher unhealthy snack choices compared to the group who received the positive message. The group that received the balanced message consumed 47% less unhealthy snacks. What this study ultimately shows us is that advertisements in the media have an effect on influencing how you perceive food and even the choices you make.
But let me take this a step further. The diet industry and other health gurus and experts out there who are telling you "don't eat carbs they are bad for you (or gluten, sugar, etc… you can fill in the blank with all the negative messages you are told), are actually setting you up to crave these foods and eventually break down and overeat them. This in turn perpetuates the restriction/deprivation/dieting/feeling guilt and shame vicious cycle that so many overweight people struggle with every day of their lives.
Is this you?
Do not be fooled; be aware of the information you're exposed to and stay alert to inaccurate information from biased sources.
For more information on becoming the expert of your own body, download my free e-book here
Your turn to take action: What negative messages have you fallen prey to that led you to overeating those foods?
http://dietfreeradiantme.com/wp-content/uploads/2016/03/Woman-apple-cupcake-decision.jpg
450
300
Bonnie R. Giller
http://dietfreeradiantme.com/wp-content/uploads/2018/08/DFRM_340x156.jpg
Bonnie R. Giller
2016-03-16 09:00:39
2016-03-15 13:49:33
Are Negative Food Messages Causing You to Gain Weight?