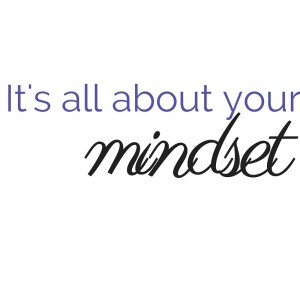 I'm going to keep today's blog short. It's a quick message for you, although I realize it might not be so easy or quick for you to internalize.
I was asked a very interesting question yesterday. The question went like this:
"What is the most important thing I can do to lose weight besides changing my eating?"
I imagine what comes to your mind, besides food, would be….exercise. But that's not what I answered her.
The very first and most important thing you need to do if you want to lose weight and never gain it back is to CHANGE YOUR MINDSET!  That's right. It has nothing to do with food.
You've tried changing your food and exercise before. You've been on multiple diets, on and off. You've gained weight, you've lost weight, and you've gained the weight back again.
You've exercised at the gym, at home, you've done boot camps, you hired a trainer, you tried Zumba and even spinning.
And, you are right back where you started from. Trying to lose the weight again.
This is because you have been starting at the end, not at the beginning. You have been so focused on what to eat, how much to eat, when to eat as dictated by the diet plans and what is "healthy", that you aren't understanding the big WHY– why you choose what you choose, when you choose it. You are stuck in a diet mentality and are afraid to let it go.
It is most important to start by changing your mindset around food, around dieting, around your body and your life. As a dieter, you must move past your dieting mentality and the idea that you need to deprive yourself and/or restrict yourself of your favorite foods in order to lose weight. You must move past the thought that you must "follow" what someone else tells you to eat because you no longer trust yourself to make those decisions.
The sooner you can do this, the sooner you can develop a healthier relationship with food and allow yourself to be guided by your inner body wisdom to know when to start eating and when to stop. However, if you say in the cycle of food worry, you will continue to think it's the food that's at the core of the problem, and that's just not so.
There's a lot more I can say on this topic. We are discussing it in our online private Facebook community.
http://dietfreeradiantme.com/wp-content/uploads/2016/02/Its-all-about-your-mindset-no-logo.jpg
800
800
Bonnie R. Giller
http://dietfreeradiantme.com/wp-content/uploads/2015/08/DFRM_340x156.jpg
Bonnie R. Giller
2016-02-10 09:00:06
2016-02-10 08:30:18
The Most Important Step in Losing Weight