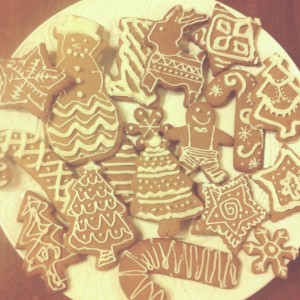 Holiday sweets are all over, wherever you turn! At the office, at home, family gatherings, work parties, school etc.
Chocolates, holiday cookies, pies, candy, and other sweet treats seem to call your name.
How do you answer them?
Do you eat them, only to feel guilty afterwards?
Or, do you say…"it's the holidays, I don't want to deprive myself while everyone else is eating them."
As you embark on, or continue, your intuitive eating journey, it is important to learn how to eat your favorite foods, sweets and desserts included, without feelings of guilt and harsh self-talk.
Year after year you promise yourself either one of two things:
I won't touch anything I'm not "supposed" to eat during the holidays. I am not going to gain an ounce! (By the way, who is deciding what you are "supposed" to eat anyway…)
I can't say no, I just don't have the willpower. Let me just eat and I'll tackle my weight in January.
How has this worked out for you year after year?
If you are like many people who contact me after January 1st, neither scenario works out well. In scenario #1, you are not being realistic. You are surrounded by holiday goodies, how can you expect yourself to not eat any of it? And, why shouldn't you eat some of it?
In scenario #2, you overeat, feel miserable, bloated, heavy and fatigued. Then starts the negative self-talk and body bashing. This is a lose-lose situation.
I am going to show you how to enjoy your holiday sweets without guilt!
How?
Join me in the Enjoy Your Holiday Sweets Without Guilt 3 Day Free Challenge.
This 3 Day Free Challenge is happening over in the Diet Free Radiant Me™ private Facebook group.
Not a member yet? Just click here to gain access! The challenge starts on Monday, December 14TH. 
http://dietfreeradiantme.com/wp-content/uploads/2015/12/Challenge-Holiday-Sweets.jpg
800
800
Bonnie R. Giller
http://dietfreeradiantme.com/wp-content/uploads/2018/08/DFRM_340x156.jpg
Bonnie R. Giller
2015-12-09 10:00:08
2015-12-08 14:41:56
Enjoy Your Holiday Sweets without Guilt