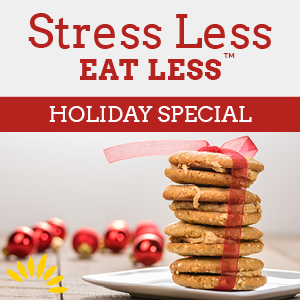 Thanksgiving is only one week away. Yikes!
Cleaning, shopping, cooking, preparing the house….there is so much to do!
Does all the stress and overwhelm of the holidays cause you to go into a tailspin? How will you accomplish all that you need to do? And, of course, you still need to go to work, tend to your usual house chores, take care of the kids etc.
What happens when you get stressed and overwhelmed?
For many, they cope by turning to food to "ease the stress". Ahh, that piece of chocolate melting in your mouth is melting away all the stress too. That is, until you try on your favorite holiday pants and they don't button.
Sound familiar?
Listen, I know you want to overcome stress eating. The holidays that are upon us are just one time when you might find yourself coping with food. But what about all year round? Is life hectic with little time for yourself?
Deep down in your heart and soul, you wish there was a way for you to learn how to manage the stress and overwhelm without eating. Actually, you wish you could better handle all that life throws your way so you aren't overwhelmed.
There is a way!


I am excited to bring to you a brand new program called Stress Less EAT LESS™.
Read all the way to the end to learn about the Holiday Special I am offering you.
In this program you will discover:
How to develop a calm mindset by better managing your time and priorities so you can be more mindful in how you handle kid stress, job stress, life's stresses.
What changes you need to make in your daily health and nutrition habits so you feel physically and mentally ready to deal with a stressful situation without caving to the ice cream and cake.
The two most important steps that you need to take when you are in the midst of overwhelm and it seems easier to turn to food to numb.
The ONE practice you MUST learn to stop stress eating in its tracks and turn you away from the cookie jar and drive-through.
I originally created this program as a "Do it Yourself" program. But I realize that you could probably use some extra support during the holidays, so for this time only, I am offering this program with LIVE group calls a private Facebook group and more!
Click here for all the details and to sign up.
There are lots of bonuses for you once you sign up. The sooner you sign up, the more bonuses you get.
Oh, and share it with your friends and loved ones who could use Simple Strategies to Stop Stress Eating in its Tracks.
Here's to a STRESS FREE Holiday!
http://dietfreeradiantme.com/wp-content/uploads/2015/11/DFRM_StressLessEatLess_Holiday_300x300.jpg
300
300
Bonnie R. Giller
http://dietfreeradiantme.com/wp-content/uploads/2018/08/DFRM_340x156.jpg
Bonnie R. Giller
2015-11-18 15:23:43
2015-11-18 15:23:43
Simple Solutions to Stop Stress Eating in its Tracks!