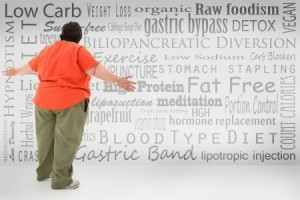 Have you ever heard yourself say "let me just lose twenty pounds and then I'll deal with my emotional eating"?
You go through the cycle of dieting and losing the weight and then gradually gain it back again and again. It's a treacherous cycle that never ends. You get sucked into the latest diet claim and think to yourself "this is what's finally going to help me lose the weight for good".
What you don't realize is it's a trap.
I'd like you to consider the possibility that it's not so much the FOOD that you're eating that's the problem, it's the underlying reason WHY you are eating.
Even if you don't follow a "fad diet"- even if you follow a healthy-well balanced, structured meal plan – there is only so long that this will "work" for you. It's imperative to face head on the emotional reasons that trigger your eating.  These structured rules and standards of even a healthy eating plan will not continue to work for you until you dig deep into your relationship with food.
This means for some of you revisiting issues from your past. What were the food and body image messages that you were "fed" growing up? I know it's easier to avoid going to these places, but it's imperative if you are going to finally feel good about yourself and your body.
I ask you to step out of your comfort zone. Don't let yourself fall into that trap again. Take a risk and trust a professional who is telling you to forget about the diets, and dare I say, your healthy eating plan (for now).
Ask yourself what you really want to accomplish? Is it to lose 20 pounds but deep in your heart know that you will regain them and continue on this dizzying diet cycle?
Or, do you want to finally come to peace with food?
I understand that you feel safe when you're following a diet. But right now it's important to be true to yourself.
If you are an emotional eater and you aren't using your inner body wisdom to make your food decisions each and every day, AND you see food as your enemy instead of the fuel and nourishment it's meant to be, it's time to make a change.
Figure out what is standing in the way of you finally losing the weight for good; because that next diet won't be your last.
Take action in ONE or ALL of several ways:
1) Download your Free e-book: 5 Steps to a Body You Love Without Dieting and get started on your journey.
2) Join other women on the same journey in our Free Online Community.
3) Set up a Break Free of Dieting Strategy Session with me (complementary) and see how I can best support you.
http://dietfreeradiantme.com/wp-content/uploads/2015/10/Obese-woman-fad-diets.jpg
300
450
Bonnie R. Giller
http://dietfreeradiantme.com/wp-content/uploads/2018/08/DFRM_340x156.jpg
Bonnie R. Giller
2015-10-14 10:58:43
2015-10-21 15:16:12
Just One More Diet…Promise!