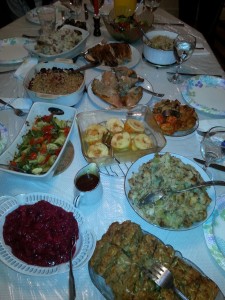 What is it about holidays and food? It seems that the word "holiday" is synonymous with the word "food" or should I say "TOO MUCH FOOD"!
I've just finished celebrating a month full of holidays. It's been fun spending time with family…my parents, my children, my grandson. Have I mentioned my grandson lately? He is just so scrumptious! He's able to call me grandma now…I just can't get enough.
But I divert. Back to topic.
I told my kids that I wasn't going to overcook this holiday. I was going to make a basic meal, ensuring that there was protein, whole grains and lots of vegetables. And I did. But the problem was…I made too much! Meaning, too many choices. I was so worried "what if she doesn't like that, what if he doesn't like this…I must have all these choices.
Well, I was wrong. After each meal ended (and there were many), I looked at the leftovers and said, "It looks like I'm putting away more than I took out". Now, of course that's not possible, but what I mean is people ate and then stopped. And, I was left with a lot of leftovers.
So, my lessons learned are as follows:
1) My family knows what it means to listen to their inner satiety (fullness signals) and they stopped eating when they were just full (okay, to be totally honest, some did eat a little past comfortable satiety, but even this happens now and then in an intuitive eater.)
2) Listen to my "gut" instinct. The next time I plan to make a basic meal, I need to stick to my plan and not worry that I won't have enough food, because I always do!
3) Immediately freeze my leftovers, in small containers, so I have ready-to-go meals for during the week. I often work late hours, and it's great to pull out already cooked food from my freezer so my family has a balanced meal every night.
4) Remember the reason we are celebrating, whether it be a holiday, a birthday, anniversary or job promotion. Food does NOT have to be the center of the celebration. Yes, it's an important part, I won't deny that. But, focus on the people you will be partying with, the conversations you will have, and perhaps new people you will meet.
What are the lessons you've learned from food-abundant celebrations?
http://dietfreeradiantme.com/wp-content/uploads/2015/10/thanksgiving-table-with-food.jpg
1632
1224
Bonnie R. Giller
http://dietfreeradiantme.com/wp-content/uploads/2018/08/DFRM_340x156.jpg
Bonnie R. Giller
2015-10-07 09:00:16
2015-10-21 15:17:16
Food and Celebrations: Lessons Learned