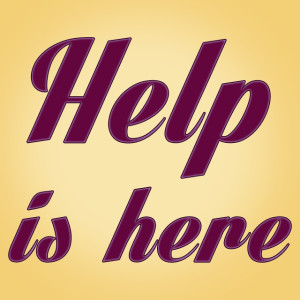 How do you feel about seeking help for things that aren't always going so right in your life?
Whether it be relationship tension, marital problems, school issues, work-related problems, do you suffer alone and try to figure it out by yourself, or do you seek the guidance of a professional who can be objective and help you work through the difficult times?
There is often a stigma around seeking help and many people feel like they should just be able to handle it on their own.
Are you one of those people?
I'm specifically talking here about getting help to overcome emotional eating and years of yo-yo dieting. One of my clients recently confessed to me that she had my phone number for a long time but didn't call me until recently because she was embarrassed. She felt that she should be able to lose the weight and keep it off without having to seek professional help.  When she realized that time after time she was unsuccessful with dieting, she finally called me and made an appointment.
As she reflected on the experience, she realized that she wasted so many years and wished she had started this journey a long time ago. But even so, she is so glad that she finally called me and got over the shame she felt for not being able to do it by herself.
You are a strong person and probably accomplished in many areas of your life. But if you are struggling with yo-yo dieting and emotional eating, give yourself the gift of seeking the support you need to jump over the hurdles. You may even know where your specific struggles lie, but you just need the strategies and the right partner.
You don't have to go it alone!
I have a number of Free Resources to help you.
E-book: 5 Steps to a Body You Love Without Dieting available by putting your name and email in the boxes to the right of this page, or at http://DietFreeZone.com
The Diet Free Zone Show™ on my YouTube Channel, released on the first and third Wednesday of every month. Each episode discusses another aspect of intuitive eating and breaking free of dieting. Check it out here and subscribe to my channel.
Private Facebook Support Group – The Diet Free Zone™ with Bonnie R. Giller. Request to join for free here.
To Your Health e-Newsletter – published twice per month. To subscribe for free, send an email to bonnie@brghealth.com and write "Subscribe me to your newsletter" in the Subject line.
I look forward to having you in my community. Please comment below and let me know how I can best support you.
http://dietfreeradiantme.com/wp-content/uploads/2015/06/Help-is-Here-300x300.jpg
300
300
Bonnie R. Giller
http://dietfreeradiantme.com/wp-content/uploads/2018/08/DFRM_340x156.jpg
Bonnie R. Giller
2015-06-17 12:08:30
2015-08-26 14:56:18
Resources and Support for Yo-Yo Dieters and Emotional Eaters