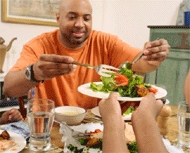 Many of the eating behaviors that you are trying to change have likely been behaviors and habits you learned while growing up through your childhood. Statements such as "you can't leave the table until you clean your plate" or "clean your room and we will go for ice cream" puts food in the category of either punishment or reward.  It is so important to think about how these statements mold your children's thoughts and beliefs about food.
It's very important to me, as a mom of 4 children and 1 grandchild, to help my family respect their individual food preferences and inner signals of hunger and satiety. They need not eat what they don't like, nor should they eat when they are not hungry or continue eating when they reach satiety. That doesn't mean, by the way, that I don't ask them to be open minded and taste a food that they "think" they won't like, or that they didn't like years ago. Tastes change, especially in growing children.
Let me share a story with you. Last week we were eating a family dinner. My youngest daughter (11 years old) stopped eating and put her fork down. There was a little food left on her plate (I think it was potatoes) and my husband asked her why she didn't finish.  She said that she's no longer hungry and that she had enough. She looked at me when she said it, as if to say "mom, aren't you proud?!" Yes, indeed, I was beaming. I quickly said that I will put away what she left over and she can eat it tomorrow. This was important as my husband doesn't like to waste food and as long as he realizes I wasn't going to throw her food in the garbage, he didn't say a word other than, "oh, okay".
Practicing intuitive eating should be a family affair. In this way, your kids will grow up with a healthy attitude towards food, their mind and their body.
Your turn to take action: Please share in the comments below one of your dinner table stories depicting intuitive eating.
http://dietfreeradiantme.com/wp-content/uploads/2014/04/Family-meals-2.jpg
153
190
Bonnie R. Giller
http://dietfreeradiantme.com/wp-content/uploads/2018/08/DFRM_340x156.jpg
Bonnie R. Giller
2014-04-02 16:04:51
2015-10-06 17:43:56
Intuitive Eating: Make it a Family Affair